1/35 StuG. III F/8 Early Production Italy 1943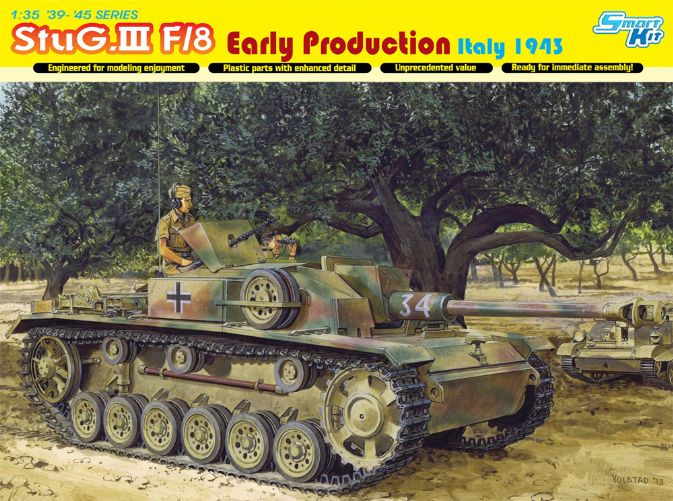 Barcode: 0 89195 86620 2
Case Pack: 20 pieces per master carton
Box Size: 9.6" x 15" x 3.1"

Features:
StuG.III F.8 rendered w/excellent detail
Gun sight protective guard has both plastic and photo-etched options
Photo-etched guard is pre-formed for easy assembly
Radio set w/new housing cover
Delicate front hull w/bolt details
Driver's vision port w/crystal part
Driver's vision port armor w/delicate weld seams for Early Production
Newly tooled spare wheel rack
Newly tooled muzzle brake for optional assembled
Gun sight and hand wheels are included
Complete gun mount is represented
Gun breech and recoil guard are fully reproduced
Recoil and recuperator cylinders are accurately presented
Slide-molded mantlet w/realistic welds seams and internal surface detail
Chamfer in lower part of manlet
Newly tooled fighting-compartment roof w/turret cover
Newly tooled multi-directional slide-molded superstructure w/bolt detail
Newly tooled slide-molded engine deck
Upper hull is easily assembled
Newly tooled multi-piece upper hull for maximum detail
Newly tooled fenders w/details on the top and bottom surface
New fender support is produced
Lower-hull sides come w/full details
Fully detailed hull-bottom weld seams
New pattern of bottom hull is represented w/details
One-piece side-molded lower hull w/new drain hatch details
Fighting-compartment hatches can be assembled open/closed
Injection-molded OVM w/clasps
Air-intake covers w/mounts are accurately reproduced
The engine deck cover is realistically presented
MP40 w/photo etched straps available for enhancing fighting-compartment interior details
Delicate interior details including the hooks on 2 sides of the compartment
Air deflector accurately represented
Photo-etched mesh is included
Cooling-air intakes are slide molded
Photo-etched air-intake grills
One piece DS tracks w/defined detail
Road wheels w/accurate details
Final-drive housing covers are separate parts for maximum detail
Accurate sprocket wheels
Idler wheel w/multi photo-photo-etched parts
Detailed track tension adjuster
The Sturmgeschutz III (StuG.III) has the distinction of being Germany's most widely produced AFV of WWII, with 10,619 eventually manufactured. Based on the chassis of the Panzer III, it was cheaper and faster to build since it did not have a rotating turret. Once German troops began encountering heavily armored Russian tanks, the StuG III Ausf.F was fitted with a longer 7.5cm gun. This marked its first true emergence as a tank destroyer rather than as an infantry support vehicle. The further modified Ausf.F/8 was produced from September-December 1942, with 250 vehicles built. It was based on an improved hull from the Panzer III J/L, and so it had thicker rear armor. It featured a 7.5cm StuK L/48 main gun. The '8' designation came about because it was the eighth update to the Panzer III hull.
To go nicely along with its previously released Late-Production model of the StuG.III Ausf.F/8, Dragon has now launched a new 1/35 scale kit of an Early-Production variant. It has all the appropriate features of an early type. For example, it has new parts representing the 30mm-thick armor that was welded on (rather than the bolted-on armor of the Late-Production vehicle). Similarly, the extra glacis plate armor is welded rather than bolted. Another change is the new road wheel rack fitted on both sides of the StuG.III F/8 tank destroyer. It's made from photo-etched metal. To reproduce the irregular shape of the roof, it's assembled from several well-fitting parts. In fact, all the parts fit well thanks to Dragon's famous engineering quality and accuracy.
---

Reviews:

---

DML 1/35 scale StuG III Ausf. F/8 Italy 1943

Kit Review: Dragon Models Limited 1/35 Scale '39-'45 Series Kit No. 6620; StuG III Ausf. F8 Late Production Italy 1943 - Smart Kit; 638 parts (587 in grey styrene, 31 etched brass, 17 clear styrene, 2 DS Plastic track runs, 1 twisted steel wire); pre-order price US$56.95 via Dragon USA Online

Advantages: the basic version of the F/8 variant with DS Plastic tracks; includes new interior bits which will will be appreciated

Disadvantages: no "Magic Track" links in this kit

Rating: Highly Recommended

Recommendation: For all WWII German fans


As I noted when the winterized Ausf. F/8 kit was released (No. 6644) this model of the the Sturmgeschuetz III series appeared in the fall of 1942 and added to the upgrade in the vehicle's armament provided by the base Ausf. F (the long-barreled L/48 gun) by a redesign and uparmoring of the hull. Other parts were either simplified or strengthened. 250 were built before production changed over to the Ausf. G which would become the most widely produced.

This kit either modifies or replaces a number of sprues from that kit and also switches to the DS Plastic track runs in place of the "Magic Track" single links. I think modelers are pretty much split on which one is better, so while making many happy DML will disappoint others. You can't win (unless you provide BOTH sets in one box!)

As with all kits in this series. it comes with many of the accouterments seen on kits like the DML Tiger I and Panther, starting with individual torsion bars and road wheel arms as well as all of the external details on the lower hull such as shocks and bump stops. Each idler wheel consists of five parts with twin brass inserts between the plastic castings. All wheels are detailed to the point of having the rubber tire manufacturer's data readable!

The brass is provided only for those bits where plastic cannot do the job, such as the aforementioned wheel rims (which are now provided in sections and not single pieces) and the air intake and exhaust grilles on the engine deck. All fender details are separate and go on in subassemblies. In point of fact, most of this model consists of subassemblies, which is how it gets its tremendous level of details. This also shows in the sprues, as for example the "A" wheel sprue actually consists of seven sub-sprues, so future kits can be done by gating off or ungating other sections of the master sprue to meet the need of those kits.

The kit comes with a high level of interior parts, including the gun, commander's cupola assembly, floor, and the radios and stowage racks for various bits on each side of the casemate. This kit adds new radio sets and other changes plus the twin hatch (vice commander's cupola) casemate roof and details. There is also a choice between a plastic or etched brass guard for the gunner's sight (parts R12 or MB1/MA8/R23) but the directions are not very clear on how these assemblies install. Also whereas the 6644 kit had the brass cover preformed, here you have to make it up on your own and it is provided flat.

The kit comes with a new engine deck that like previous kits consists of several subassemblies combined to form the deck. Note that every hatch on this vehicle can be opened for display of the interior, but there is no engine or transmission provided.

While the kit comes with the prominent machine gun shield and mount, no machine gun is provided in the kit.

Technical credit is given to Tom Cockle and Gary Edmundson.

Four finishing options are provided: Pz.Div. "Hermann Goering", Sicily 1943 (tricolor upper hull, black crosses); StuG Brigade 243, Stalingrad 1942 (tricolor upper hull, crosses, charging knight insignia); StuG Brigade 203, Stalingrad 1942(whitewash over sand with black crosses); and StuG Brigade 904, Kursk 1943 (sand with green overspray, black crosses). Directions cover the changes needed for the HG variant inside the sheet. A small sheet of Cartograf decals are provided for these options.

Overall, this is the base F/8 and will be popular with StuG fans, but overall DML has over-saturated the Sturmgeschuetz market and many modelers note confusion with the slight differences in variants. (Note that many serious fans find mistakes in the variants and carp on line about them, so it only adds to the confusion.)

Thanks to Freddie Leung for the review sample.


-Cookie Sewell-
ITEM NUMBER:
6620
SCALE:
1:35
BARCODE:
089195866202
RELEASE DATE:
June 2013
LAST UPDATE:
6/20/2013
SERIES: