1/72 Sd.Kfz.232 Schwerer Panzerspähwagen (FU)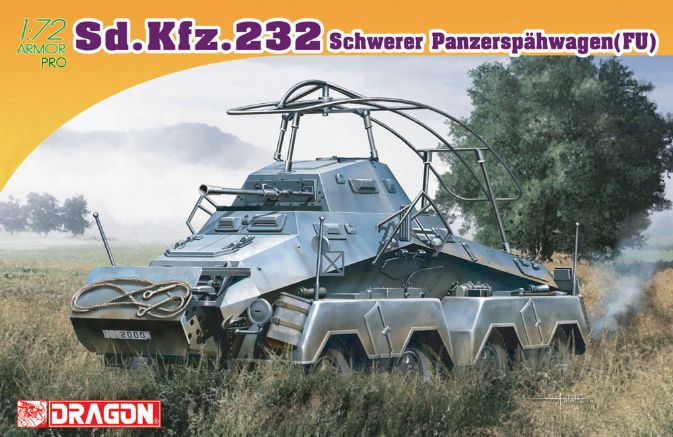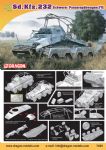 Barcode: 0 89195 87429 0
Packaging: 48 Pieces per carton
Box Size: 6.4" x 10.2" x 1.9"
New Tooling!!!
Features:
Newly produced Sd.Kfz.232 w/fine details
New preformed frame antenna made from injection-molded plastic
Vision ports on turret displayed
Realistic 2cm KwK 30 L/55 and MG34 included
Injection-molded tow cables reproduced
Highly detailed rear hull
Delicate grill on engine deck
Turret hatch can be assembled open/closed
Sharply reproduced cargo and jerry cans
Turret made by 3-directional slide mold
Slide-molded upper hull
Slide-molded fenders w/on-vehicle tools
Underside of hull made by slide mold
Chassis possesses full detail
Detailed wheels w/authentic tire tread pattern

Germany created a number of successful schwerer Panzerspahwagen ("heavy armored reconnaissance vehicles") to support its forces. Among them was the family based on the Sd.Kfz.231 8-Rad ("eight-wheel") design. The Sd.Kfz.232 accommodated extra radio equipment and a large frame antenna for longer-distance communication. The armored car's Bussing-NAG 8x8 chassis offered good cross-country mobility and the vehicle also possessed eight-wheel steering. There were dual driver's controls, which meant the vehicle could drive rapidly in either direction if it came under attack. The 8.3-tonne design was ordered in 1934, and both the Sd.Kfz.231 and 232 featured a hexagonal-shaped turret mounting a 2cm KwK 30 cannon plus one MG34 machine gun. Production of the Sd.Kfz.232 ceased in 1943 in favor of the newer Sd.Kfz.234/2 Puma.
Dragon has produced yet another brand new plastic kit! The Sd.Kfz.232 features all-new toolings, and the upper and lower hull sections are made as one-piece elements via slide molds. The large armored car is composed of many irregularly shaped and angled plates, so the kit obviously requires extremely precise tolerances when it fits together. Thanks to the use of CAD drawings and high-tech molding techniques, the vehicle's parts fit together flawlessly. The unique shape of this 8x8 armored vehicle is beautifully captured, and the distinctive antenna frame is finely rendered. Dragon already has high-quality 1/72 scale Panzer III kits available, so the arrival of the Sd.Kfz.232 now gives these early-war panzers a valuable reconnaissance capability!
---
Reviews:
---
Sd.Kfz.232 Schwerer Panzerspahwagen (FU)
Manufacturer: Dragon Models
Scale: 1/72
Material: Styrene
Serial Number: 7429
Price: TBA
Introduction
Manufactured from 1938 to 1943, this vehicle was eventually to be replaced by the Sd.Kfz.234/2, but instead of being withdrawn from service they were instead upgraded with more modern radio equipment and antennas. They were armed with a 2cm KwK 30 L/55 and MG34.
Kit Contents
These small scale kits from Dragon are surprisingly attractive when you first open the box. They look so tiny...especially when you're primarily a 1/35th scale modeller...but also so detailed and so perfectly formed. The kit is obviously supplied in one of the smaller Dragon boxes, inside of which the parts are supplied on a small number of sprues, together with a small decal sheet and four-sided glossy, colour instruction pamphlet.
The now standard parts map is on the first side of the instructions, before beginning to illustrate the assembly sequence on the second. Remembering the scale of course, it's a very simple...and short...assembly sequence. However, Dragon has still managed to pack in an awful lot of detail foe such a diminutive model. Even on the 1/35th scale 234's that have a similar chassis to these vehicles, the lower body is tiny, so you imagine how small they are in this scale. A tad over 80mm in length and 28mm at its widest point, the chassis itself being only 11mm in width. Most of the drive train components are provided as moulded-in detail on the bottom of the lower hull, although the leaf springs for the suspension are provided as separate parts, along with some steering components, and the drive shafts between each pair of wheels. Each of the fenders on either side of the vehicle are provided in one moulding, and although there are various separate detail parts to be fitted to each fender, the on-vehicle tools are already moulded onto the fenders themselves.
As you would probably expect at this scale, there's no internal detail provided whatsoever, so once the suspension, wheels and fenders are on, the upper hull can be mated to the lower. The bedframe antennae is supplied with the main frame in one piece and the five support arms as separate parts. The turret that the front rotating support is fitted to can be rotated and displayed in any position, and the main gun barrel...and MG34...are both supplied with slide-moulded, pre-drilled ends.
As a result of Dragon trying to pack as much detail as possible into such a small package, there are of course, compromises. The brackets/walls of the ditching armour at the front are over-scale thickness, and more noticeably so because of the lightening holes in them. As mentioned, the moulded on tools will require a good paint job to look realistic, as will the moulded on tow cable. There's a big but though...mixed in with these compromises there are some incredible touches, such as the tiny Notek light, the separate turret hatch....and a pre-drilled barrel on a 1/72nd scale MG34?
Markings-wise there are four schemes illustrated in full colour on the reverse of the instructions, the first two in early war panzer grey, the second two in late war dunkelgelb, one of which has green stripes. See below for more detail on these.
Conclusion
I feel the same about this one as I did when I reviewed Dragon's 1/72nd scale Nashorn, and I ended up building that one. They just look like they would be seriously fun to build and paint, and the Nashorn was...so this one should be too! Why on Earth we don't get full colour marking schemes in the 1/35th kits yet I don't know? If you really want to go to town and produce a serious miniature masterpiece, then you already have a fantastic start with this one, and imagine the fun you'd have along the way!
- Vinnie Branigan
ITEM NUMBER:
7429
SCALE:
1:72
BARCODE:
089195874290
RELEASE DATE:
February 2012
RETAIL PRICE:
USD 19.95 (MSRP)
JPY 1800 (Tax Excluded)
GBP 17.99 (Ref. Retail Price)
EUD 19.95 (Ref. Retail Price)
LAST UPDATE:
12/19/2012
SERIES:
DISCLAIMER: While all models portrayed in website photographs represent actual models, please note that these are prototypes and that final model products may vary slightly
Copyright 1998-2016 Dragon Models Limited. All Rights Reserved.