1/72 Neubau-Fahrzeug Nr.2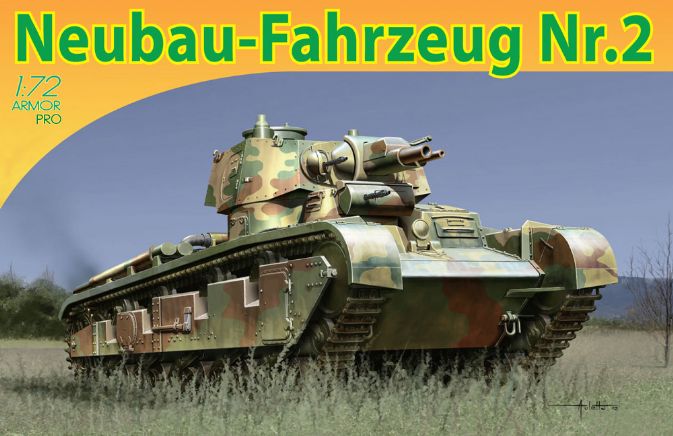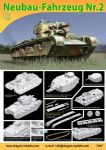 Barcode: 0 89195 87437 5
Case pack: 48 Pieces per carton
Box Size: 7.5" x 11.4" x 1.8"
Features:
Newly tooled Neubau-Fahrzeug Nr.2
Newly produced turret molded w/bolt detail
Slide-molded 7.5cm KwK L/24 and 3.7cm KwK L/45
Slide-molded turret w/MG reproduced
Slide-molded upper hull produced w/intricate details
Complicated exhaust system accurately formed
Delicated engine deck reproduced
Headlamp on front hull can be folded up/down
Side fenders w/pattern detail
Intricately molded on-vehicle tools
Drive sprockets and idler wheels accurately recreated
One-piece suspension system produced for easy assembly
Delicate DS tracks produced

Germany's first attempt at creating a heavy tank commenced in the early 1930s. Known as the Neubau-Fahrzeug ("New Construction Vehicle"), it was not a success. Slow-moving and boasting multiple turrets, it was ill equipped for the type of rapid, mobile warfare that Blitzkrieg tactics required. For this reason, only five Neubau-Fahrzeug heavy tanks were built. The first two prototypes were manufactured by Rheinmetall-Borsig (Rh-B) in 1934 out of mild steel. Armament included a 7.5cm KwK L/24 main gun, 3.7cm KwK L/45 cannon and two 7.92mm machine guns.
Dragon has already produced two 1/72 scale kits of the Neubau-Fahrzeug that cover vehicle numbers 1 and 3-5. Now comes the final vehicle – Nr.2, a prototype that was used in a training school until its retirement in 1940. The kit includes a number of brand new parts that allow modelers to build this specific vehicle. While the turret looks similar to Nr.3, in fact it's different, as evidenced by details such as the pattern of rivets on the top plate. The smaller turret is a new tooling as well, with its own distinctive shape. The exhaust pipes on the right fender are also unique to this prototypical vehicle. The entire upper hull is made from a single piece of while the intricate road wheels are assembled as one piece. With the release of this final kit in the family, modelers can now own the complete set of Neubau-Fahrzeug!
---
Reviews:
---
Neubau-Fahrzeug Nr.2
Manufacturer: Dragon Models
Scale: 1/72
Material: Styrene
Serial Number: 7437
Price: TBA
Introduction
The Neubau-Fahrzeug was a series of vehicles manufactured by Germany around 1934, in an attempt to produce a heavy Tank. Neubau-Fahrzeug translating into 'New Construction Vehicle'. The tank was multi-turreted, the main turret being armed with a 75mm KwK L/24 main gun, and also a smaller 37mm KwK L/45. Two manufacturers produced examples, Krupp and Rheinmetall, each differing only in the placement of the secondary gun in relation to the main one - Krupp had their 37mm next to the main gun, and Rheinmetall had theirs above the main gun. In total only five vehicles were produced and used mainly for propaganda purposes, although apparently three of them were used in the invasion of Norway.
Kit Contents
Inside the slightly larger than standard box there a small number of grey styrene sprues, a small decal sheet, and two lengths of tracks in Dragon tan-coloured DS100 vinyl.
The instructions are a small four-sided leaflet, in colour, beginning with the usual parts map, and then assembly beginning on page two. Parts-wise, there is actually a sprue less in this version of the kit over the earlier released Number 1 version. In fact, everything in this kit (apart from the turret) was actually supplied in the earlier release, with some very slight alterations to the sprues.
For example, we're given the same one piece slide-moulded lower hull, the same decal sheet consisting of just six white crosses, although it is marked 7437 instead of 7436. The very small sprue A, of which there are two in the model, supply just two parts to construct the mantlets for the small turrets, and a turret bottom plate. At first glance these are identical to the same sprues in the earlier release, but on close inspection the mantlet has a subtle difference, despite the turret shells themselves, supplied on a different sprue, being identical with those in the earlier release. The only other difference is the main turret, this one being the more angular one. The different fenders and other parts specific to this version were also in the earlier release, although interestingly a few of the parts on those sprues, and marked as 'not for use' in that kit, have subtle alterations, for example the commander's cupola hatch has been slightly changed.
Construction begins with upending the one-piece slide-moulded hull and fixing the flat baseplate that represents the floor of the vehicle. The original vehicle was unusually constructed, and this is reflected of course in the model that represents it, with inserts consisting of an entire side of roadwheels that are inserted into recesses on the hull top. It's actually an ideal method of construction for this vehicle, and once in place, it's almost impossible to tell that all the roadwheels are moulded in one part per side. The tiny return rollers, four per side, are also moulded integrally with their mounting brackets, and again they've been done in such a way as to retain the maximum amount of detail, and it will be difficult to discern exactly how they're constructed once the model is finished. The tiny drive sprockets are provided in two parts, and the tracks provided in DS100 vinyl that can be cemented using ordinary styrene cement. In a nod to past complaints that such tracks have been found to be either too long or too short...dependent on which modeller you listen too, Dragon have helpfully included a short instruction on either stretching the tracks to the correct length or shortening them. To be truthful, I find this odd, since I haven't yet had a set of vinyl tracks I have had trouble with fitting. I just assumed it was common sense that the length might have to be adjusted on assembly, and was always slightly amused by complaints from other modeller's that they had to adjust them to fit?
Once the tracks are on, the fenders can be fitted. Some of the on-vehicle tools are supplied as separate tiny parts, whilst others are already moulded onto the fenders. I still can't figure out why? Surely it would be better to supply all the tools of either one sort or the other?
The turret shell in the kit is supplied as a one-piece slide-moulded part onto which the floor and various details are fixed, as are the two small secondary turrets.
Conclusion
Again, Dragon have released a well-engineered, sharply detailed kit that modellers in this scale will surely appreciate. Even if you're largely a 1/5th scale modeller, these small scale versions can be a real joy to build and paint...well worth giving them a go!
- Vinnie Branigan
ITEM NUMBER:
7437
SCALE:
1:72
BARCODE:
089195874375
RELEASE DATE:
May 2012
RETAIL PRICE:
USD 19.95 (MSRP)
JPY 1800 (Tax Excluded)
LAST UPDATE:
5/7/2012
SERIES:
DISCLAIMER: While all models portrayed in website photographs represent actual models, please note that these are prototypes and that final model products may vary slightly
Copyright 1998-2016 Dragon Models Limited. All Rights Reserved.