1/35 T-34/76 Mod. 1942 "Formochka"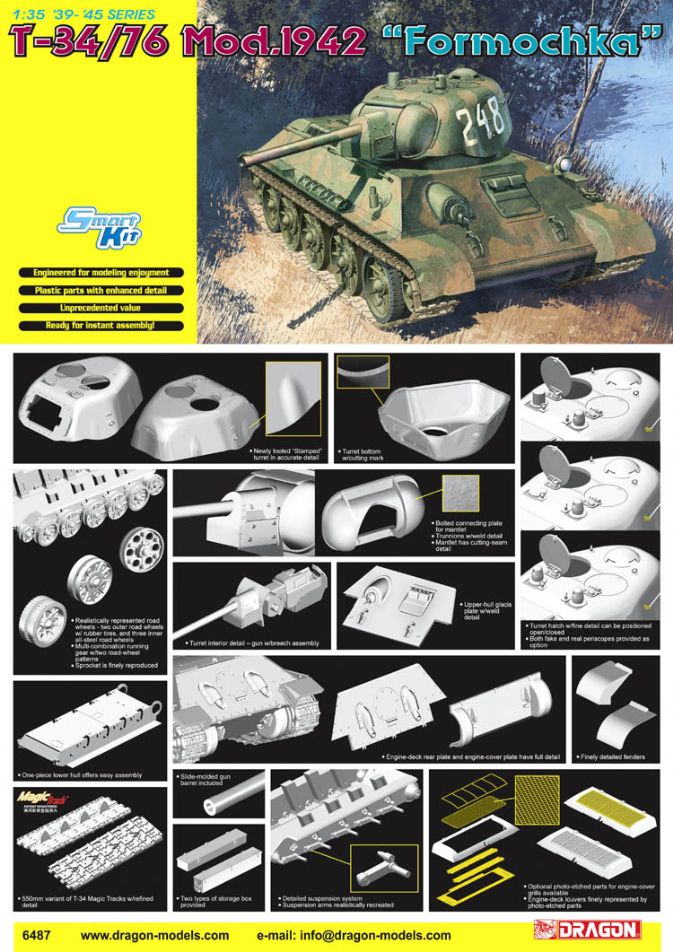 Barcode: 0 89195 86487 1
Case Pack: 20 Pieces Per Master Carton
Box Size: 9.8" x 15" x 2.8"
Features:
- Newly tooled "Stamped" turret in accurate detail
- Turret bottom w/cutting mark
- Turret hatch w/fine detail can be positioned open/closed
- Both fake and real periscopes provided as option
- Bolted connecting plate for mantlet
- Trunnions w/weld detail
- Mantlet has cutting-seam detail
- Turret interior detail - gun w/breech assembly
- Upper-hull glacis plate w/weld detail
- Engine-deck rear plate and engine-cover plate have full detail
- Finely detailed fenders
- Realistically represented road wheels - two outer road wheels w/rubber tires, and three inner all-steel road wheels
- Multi-combination running gear w/two road-wheel patterns
- Sprocket is finely reproduced
- One-piece lower hull offers easy assembly
- Slide-molded gun barrel included
- Two types of storage box provided
- Detailed suspension system
- Suspension arms realistically recreated
- Optional photo-etched parts for engine-cover grills available
- Engine-deck louvers finely represented by photo-etched parts
- 550mm variant of T-34 Magic Tracks w/refined detail
Most experts rate the T-34 as the best tank in the world at the time the Soviet Union entered WWII in 1941. Blessed with wide tracks, well-sloped armor and an effective 76mm gun, its mobility, armor protection and antitank capabilities were unsurpassed at the time. In fact the T-34 was the second most widely produced tank of all time, with a range of different variants being produced throughout WWII. Dragon has already created quite a number of excellent 1/35 scale plastic model kits of the T-34 family, and it is now pleased to offer another interesting variant.
The newest kit is a T-34/76 Mod.1942 "Formochka". This tank boasted a stamped turret produced by the giant 5000-ton forge press at the Uralmash production plant in Sverdlovsk. Such expediencies in construction resulted from the various manufacturing facilities the Soviets relied on, especially as many factories had to be relocated further east as they come under threat from the German advance.
This highly refined kit is full of fine detail. Obviously the main characteristic of the "Formochka" variant is the stamped turret, which is a brand new tooling that flows from the hands of an expert master builder from Japan. Given the sculptor's pedigree, the turret is accurately formed and dimensioned, and gives this T-34 vehicle a unique appearance. The turret even contains interior detail such as the gun breech. Meanwhile, other parts like the one-piece hull and 76mm gun barrel are slide molded for maximum accuracy. Photo-etched parts such as the engine-cover grill and louvers complement the fine plastic detail of the kit. This is a novel T-34/76 variant, yet one that fills an important gap in the family tree!
---
Reviews
Kit Review: Dragon Models Limited 1/35 scale '39-'45 series Kit No. 6487; T-34 /76 Mod. 1942 "Formochka" - Smart Kit; (385 in grey styrene, 160 "Magic Track" links, 85 etched brass, 3 clear styrene, 2 twisted steel wire); retail price US$49.95
Advantages: Another popular T-34 variant appears as a kit; kit provides a good version of a mid-production Factory No. 183 hull for this turret
Disadvantages: name not found in any history of the T-34; no cupola for late-production variant offered
Rating: Highly Recommended
Recommendation: for all Soviet and "34" fans
Even though the Soviets quickly decided on producing two versions of the Model 1941 T-34 turrets – cast and welded – even with new casting techniques using steel molds they were hard pressed to keep up with production requirements. Another source of turrets was required. As a result, in October 1942 the State Committee on Defense (GKO) ordered the UZTM factory to produce pressed steel turrets as they could double the speed of production by this method.
The new turret design – called "Shtampovannaya Bashnya" or the pressed turret – was based on the cast turrets from Factory No. 183, but here the UZTM used its 10,000 ton "Shleman" steel press (which had been used to make components for destroyers and other warships) to produce the new turrets from 45mm homogenous rolled armor plate. Under the direction of chief designer L. Ye. Gorlitskiy it was hoped the design would use 60mm plate, but the press could not handle this and thus 45mm plate was used. Surprisingly during testing it was found to be superior in protection to the then standard 52mm cast turret armor.
UZTM produced both the cast turrets as well as the pressed steel turrets in parallel and sent out to other T-34 factories for production, but most commonly they were seen on Factory No. 112 (Krasnoye Sormovo) chassis. When production ceased on 1 March 1944 UZTM had produced between 2,050 and 2,062 of these turrets. They were used for both regular T-34 Model 1942 tanks as well as the Model 1943 with the commander's cupola.
This tank has always been a popular variant of the T-34 due to its unique turret shape, and now DML has released a modified version of their Model 1942 "Gayka" kit with this turret. The name "Formochka" puzzles me, for it is not used by any contemporary Russian source nor any modern Russian historian, but only as a slang term (also used for "vacuform" as well) on Russian modelers' websites. This is not the first time DML has done this, and while not as dim as the use of German names or designators for Soviet tanks it is still unfortunate.
Be that as it may, the kit provides all of the recent Model 1942 "Gayka" parts with six new moldings for the pressed steel turret. The rest of the turret bits are retained, but no aluminum barrel is provided. The roof parts are integral and unlike some recent DML M4 Shermans a new and proper base is provided.
The kit adds several new sprues to the latest set of the molds and provides the cast wheels, cast wheels with rubber tires, new stern plate, new radiator exhaust grilles, and the turret and detail components. The shapes and angles match the Russian plans of the tank I have on hand. A new set of 500mm "waffle" tracks are provided in the form of a new set of "Magic Link" single link tracks. Each link does come with two ejection pin marks on the inner face, but these stand proud and while tedious are easily removed.
As noted many older but well-done parts are used in this kit. The late-model double bump stops on the lower hull molding are still present, as previously noted they can't really be seen when the model is assembled and is a"so what" correction.
The model comes with two standard PT periscopic sight/viewer with the "acorn" shaped cover found on most T-34s as well as the "cylinder" one seen on some tanks for the loader. A gun breech and partial interior to the turret are provided as with all of the DML T-34 kits. As noted the kit does not provide the late-model commander's cupola, but one could be adapted from a Tamiya T-34 Model 1943 kit. Note that these tanks could and did carry external fuel tanks, with one each going on the rear sides of the tank and two smaller ones on the stern plate; it is recommended you try to get copies of "T-34 Snizhu Doverkhu" by Sergey Kirsanov (Frontline Illustrated, a Russian magazine) if possible to see how these attach.
This project is listed as supervised by Hirohisa Takada, with drawings from Minoru Igarashi and the Dragon design team; technical assistance was provided by Nick Cortese.
Three different finishing directions are provided: Unidentified Unit, Eastern Front 1944 (4BO green with earth brown patches, white 248); Unidentified Unit, Eastern Front, 1943 (whitewash over 4BO green, no markings); and the inevitable captured vehicle, Pz. Regt. 2nd SS Panzer Division "Das Reich", Kursk 1943 (sand and green, white outline crosses and white 1011). A targeted set of Cartograf decals are provided.
Overall, this is a nice execution of this variant of the T-34 and other than the unfortunate STZ kits continues DML's streak of excellent T-34 kits.
- Cookie Sewell
---
6487: T-34 /76 Mod. 1942 "Formochka" ~ Smart Kit
1/35 injection plastic kit with multimedia accessories and decals
Seeking to produce as many T-34s as possible, the Soviets used the 5,000 ton forge at Uralmesh's Sverdlovsk factory to make T-34 turrets. This large forge was able to stamp the turrets and these turrets can be easily distinguished by their rounded shape. Uralmesh supplied about 2,760 of these turrets to the UZTM and Chelyabinsk tank factories. These turrets had the 76mm guns and were designed to fit on the T-34s existing turret ring and their hulls displayed features typical of other T-34/76.
CONTENTS
This new Dragon kit has new tooling for the stamped or "Formochka" turret. It represents a 1942 production version as seen by the retention of the two hatches on the turret roof, which meant the commander had to expose himself to gain a good awareness of the battleground. Later models addressed this limitation by adding a cupola for the commander and also had external fuel tanks. This kit has mixed road wheels with the front and rear road wheels having rubber tyres, while the three inner wheels are all-steel to conserve rubber which was typical of 1942. This kit also has up to date tooling for the 550mm tracks, which are in the pre-cut Magic Track style.
The layout is like other Dragon T-34s Smart Kits with large single pieces for the lower and upper hulls and turret shell and an impressive standard of tooling in terms of crispness and consideration of how the kit will be assembled. A photo etch fret provides small details.
Features include:
A newly tooled stamped turret which has considerable sharp detail for items such as bolt heads, hinges and mounting points and rounded edges indicative of the stamping forge. The roof is integral to this part and both hatches can be modeled open or shut. Also included are a ventilator dome and two roof-mounted periscopes with the options of a dummy periscope or a blanking plate instead of the second periscope.
550mm wide "Magic Tracks" which typical of the T-34 alternate between links with and without guide-horns. The two different links have different grid patterns on their outer faces. As the links come loose they are easy and quick to assemble. There are two slight injection marks on the inner face of each link.
One-piece injection plastic barrel. The gun's breech is inside the turret and would be visible through open hatches, while there is a bolted connecting plate for the mantlet. A new inner plate is included for the mantlet.
Sprocket and idlers with crisp detail for the lightening holes and ribbing.
Road wheels with the perforated rubber tyres for the front and rear stations which are very crisply tooled and equally crisp tooling for the all steel wheels on the other stations (10 lightening holes and ribbing). The kit includes sufficient spares to depict a T-34 with steel rimmed wheels on all stations, which is a useful option.
Metal tow cable with plastic cable heads. When positioning the cable you may want to look at photos for suggestions as to how the crew secured them.
Clear plastic lens for the headlamp.
A choice of two air-intake covers on the engine deck. One has a single piece plastic frame to simplify assembly and the other has PE mesh screen and PE louvers. The frame with the PE parts has the improved design used on the later Dragon/Cyber-Hobby releases.
Two multi-part plastic toolboxes with optional PE latches and hinges. There is a choice of toolboxes designs for the right hull side.
One-piece tub hull with separate parts for the vertical suspension towers, which are fitted inside the hull and have the exposed (but obscured by the road-wheels) large coil springs.
Two photo etch frets includes the louvers and mesh screens on the rear of the engine deck, rear fenders, PE straps, and bases for hand/spare track rails on the turret.
DECALS
The instruction sheet includes painting guides for three T-34/76 from the Eastern Front each of which is profiled in colour on the side of the box. One T-34 from an unidentified unit in 1944 is green with mustard yellow patches and white turret number 248 (box art); the second is also from an unidentified unit and is dated 1943 being a partial white wash over green; while the last T-34 is a captured tank serving with the Waffen SS Das Reich Panzer Grenadier Division at Kursk July 1943. To reduce the risk of friendly fire, this tank has been painted in a German colour scheme of dark yellow and green and has large white outline Balkan Crosses and white turret number 1011. The decal sheet is from Cartograf.
RECOMMENDATION
With its distinctive stamped turret, the new "Formochka" release provides another valuable addition to Dragon's collection of WWII T-34s. The parts are crisp and the use of the Smart Kit format will ensure many modellers find this kit is rewarding. Definitely recommended.
- Neville Lord
ITEM NUMBER:
6487
SCALE:
1:35
BARCODE:
089195864871
RELEASE DATE:
August 2009
RETAIL PRICE:
USD 43.95 (MSRP)
JPY 4400 (Tax Excluded)
GBP 34.99 (Ref. Retail Price)
EUD 39.95 (Ref. Retail Price)
LAST UPDATE:
7/14/2009
SERIES:
DISCLAIMER: While all models portrayed in website photographs represent actual models, please note that these are prototypes and that final model products may vary slightly
Copyright 1998-2016 Dragon Models Limited. All Rights Reserved.