1/35 Gebirgsjager Defense (Gustav Line 1944)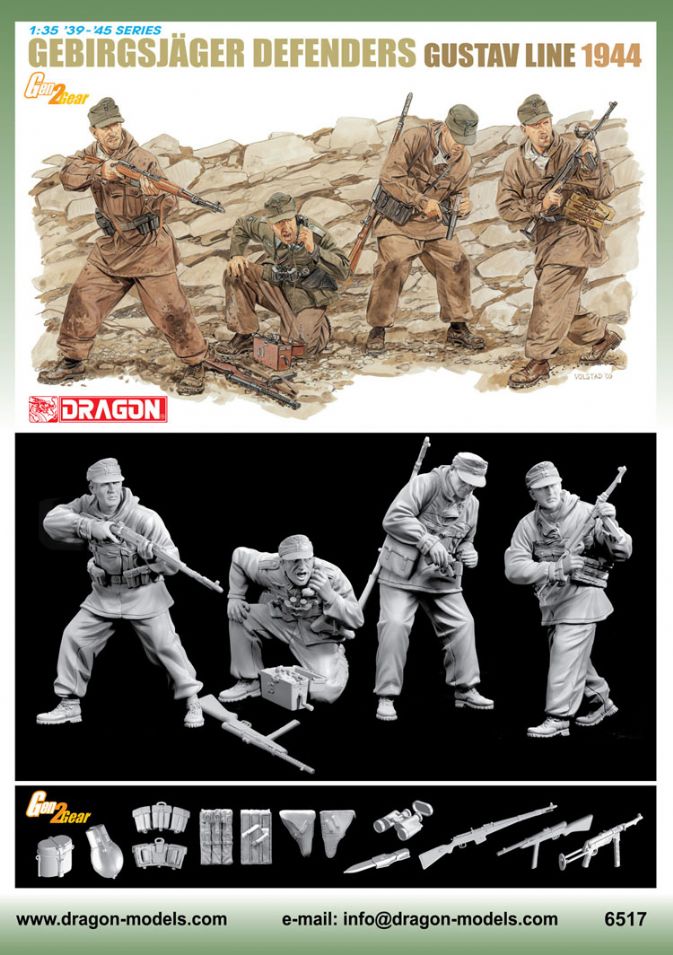 Barcode: 0 89195 86517 5
Case Pack: 48
Box Size: 6.4" x 10.2" x 1.5"
Italy was described as the soft underbelly of Europe, but it proved anything but such when the Allies invaded it in WWII. Allied troops made painstaking progress up the mountainous spine of Italy, foundering for some months on the Gustav Line, a series of fortifications including bunkers, machine-gun emplacements, barbed wire and minefields. This was Germany's Winter Line, and it passed horizontally across Italy south of Rome. Defended by 15 German divisions, it took the Allies from mid-November through to late May 1944 to completely penetrate the Gustav Line.
Dragon's newest 1/35 scale figure set depicts some German defenders of the Gustav Line. The set has four Gebirgsja"ger, or mountain infantrymen/soldiers. Gebirgsja"ger were specialist troops trained to operate in alpine areas. Their famous emblem is the edelweiss. These soldiers acquitted themselves well in Italy's mountainous terrain, with the 5th Gebirgs-Division, for example, fighting in Italy from April 1943 through to the end of the war. Each of the mountain soldiers in the box is dressed in appropriate winter attire, and is vividly posed in a combat scenario. The set includes several unique pieces of equipment - one is newly tooled Mauser G41(M) semi-automatic rifle, while another is a brand new field telephone. For greater versatility, the signal gun held by one soldier can be shown being loaded with a flare cartridge. These four Gebirgsja"ger are engaged in desperate defense of the Gustav Line in Italy, but they can also be adapted to any action selected by the modeler!
A special feature of this set is a brand new sprue containing German gear such as ammo pouches, water bottles, bread bags plus standard weapons like the MP-40, Kar98K, MG34 and MG42. This new sprue sets a benchmark and standardizes what items will appear in other German figure sets from now on.
---
Reviews
Kit Review: Dragon Models Limited 1/35 scale '39-'45 Series Kit No. 6517; Gebirgsjaeger Defenders - Gustav Line 1944 - Gen2 Gear; 120 parts in grey styrene; estimated retail price about US$13.95
Advantages: combination of "Gen1" figures and "Gen2" kit a good idea
Disadvantages: no major items noted
Rating: Highly Recommended
Recommendation: For all German and Italian theater fans
The "Gustav Line" was one of several fortified German defensive lines up the "boot" of Italy and ran from the Tyrrhenian Sea in the West to the Adriatic in the east about 75 miles south of Rome. By this time many different units were defending it, including mountain troops (Gebirgsjaeger) who had been trained for this sort of operations.
DML is now offering a set of these troops in the heavier kit used in colder climates (normally they wore shorter paints, tall stocking and "birgsteiflen" or mountain boots). The four figures in the box provide one man preparing to fire a rifle, a lieutenant on a field phone reporting, one loading a flare pistol, and one moving laterally with a submachine gun at the ready.
The figures are the so-called "Gen1" type consisting of seven basic parts (head, collar/hood, torso, arms, and legs) with separate hands for one figure. This has been one of the points of debate between fans of the simple figure and the more detailed "Gen2" figures which normally run 16-18 parts each, providing much more detail but being harder to get a "clean" assembly for painting.
One compromise here is the use of "Gen2" style kit which uses more slide molding techniques and are more natural in appearance once attached to the figures.
The weapons are new mold, but surprisingly are not the true "Gen2" weapons with slide molded hollow muzzles. Still, they provide a good selection for troops stationed in Italy post-1943 when the Italians nominally went back over to the Allies.
The artwork is by Ron Volstad and as usual is top-flight, as well as providing a much easier set of painting and assembly directions.
Overall this is another take on German troops and one which fills another niche.
- Cookie Sewell
---
Gebirgsja"ger Defenders Gustav Line 1944
Manufacturer: Dragon models
Scale: 1/35
Material: Styrene
Serial Number: 6517
Price: TBA
Introduction
The Gustav Line...or more properly the Winter Line...was a row of fortifications across Italy constructed by the Germans during WWII. South of Rome, it was regarded as one of the strongest defensive lines the Germans had built in Italy at that time. Although some fifteen Divisions were tasked with defending the line during its life, this set of four figures specifically represent Gebirgsja"ger or Mountain Infantry troops.
The set
Let's get the contents out the way first. Two large sprues and two small ones. It's about normal for what you'd expect of a figure set. What's not really normal is the Generation 2 label on the front of the box....but if you look closely, it actually says Gen 2 'Gear'. It's not a second generation figure set as we've come to know it, although it does include some of Dragon's 2nd Generation weapons.
Now that we've cleared that up, I can look at the figures as a normal so-called first generation figure set.
As usual for a normal figure set, we're offered four figures in various poses. Their weapons and personal kit are supplied on separate sprues. Moulding is good, except for some fine flash around the fingers of the hands. The fine cooling lines are still present on the torsos of the figures, especially evident on the backs of the upper torso, and although a nuisance these can be easily removed, with the edge of a scalpel blade.
The breakdown of parts is conventional, i.e. upper torso, separate right and left legs, arms and a separate head with separate headgear. One of the figures is supplied with separate hands, and three of the figures are supplied with separate collar and hood parts.
Three of the figures are dressed in hooded parkas and are posed standing holding weapons, whilst the fourth is supplied wearing a uniform tunic and is posed kneeling, speaking on the radio.
The sculpting of all four figures looks good, with fine detail, the front of the parkas being especially fine. Remember...these are normal first generation figures, i.e. their heads are moulded in one piece, as is their torso etc., and yet their boots have tread detail. That's a little unusual on injection moulded figures, especially ones moulded in standing positions. It's a little feint on some, but it's definitely there. What's more...it's a correct tread pattern for the Bergschuhe or mountain boot. The faces are especially well done too...with fine detail and one of the figures even having teeth. The only thing that lets them down slightly is the lack of any Edelweiss on the caps. On the main figure sprue, supplied to be used with the kneeling figure, we're given a Model 1933 Field telephone, together with handset, although you'll have to supply your own wire!
Weapons-wise, all the weapons in the set are first generation. They include three MP40's with one wire stock and two spare magazines, a Breda M30 with separate bipod and magazine, a Beretta M38 subtype, Fucile M38, two Gewehr 41's and two kinds of pistol on the personal kit sprue. Speaking of which....
The personal kit sprue is the 2nd generation gear mentioned on the box art. It contains the only 2nd generation parts in the kit. Most parts on the sprue are in multiples of four. For example, there are four helmets, canteens, bread bags, rolled Zeltbahns, flasks and gasmask cylinders, but there are also the afore mentioned pistols, holsters, ammunition pouches, map cases and daggers. Although touted as 2nd generation, the gasmask cylinders are effectively the only 2nd generation parts that I can discern? There are no ammunition pouches with open flaps, or holsters with open flaps, no flask or canteens with separate tops either.
Conclusion
It's a nice figure set. As you'd expect, the moulding is first class, the poses interesting. The weapons supplied with the set are good too. However, the legend 'Gen 2 Gear' on the box is slightly misleading, as the only remotely Generation 2 parts in the entire set are four gasmask cylinders, and even they used to have both ends separate in Gen 2 sets, not just one end as this set.
- Vinnie Branigan
ITEM NUMBER:
6517
SCALE:
1:35
BARCODE:
089195865175
RELEASE DATE:
September 2009
RETAIL PRICE:
USD 10.95 (MSRP)
JPY 1150 (Tax Excluded)
GBP 10.99 (Ref. Retail Price)
EUD 12.5 (Ref. Retail Price)
LAST UPDATE:
7/2/2009
SERIES:
DISCLAIMER: While all models portrayed in website photographs represent actual models, please note that these are prototypes and that final model products may vary slightly
Copyright 1998-2016 Dragon Models Limited. All Rights Reserved.