1/35 Firefly 1c Welded Hull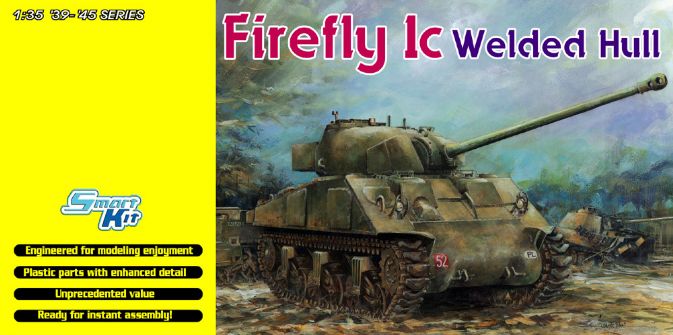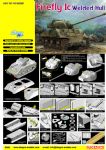 Barcode: 0 89195 86568 7
Case Pack: 20 Pieces per case
Box Size: 9.6" x 15" x 3.1"
Features:
- Newly tooled turret roof w/clear parts
- Brand new Firefly 1c w/authentic detail
- New designed engine deck ventilator covers
- 2-directional slide molds enable one-piece upper hull w/weld seam
- Turret roof w/bomb-thrower port can be optionally assembled
- Slide-molded gun shield and rotor shield w/maximum detail
- Slide-molded anti-aircraft MG w/hollow end
- Anti-aircraft w/pedestal mount on turret roof as bonus
- Two types of air-filter on the rear hull made by slide mold
- Tow-bar w/hock realistically presented
- Engine rear doors can be assembled open/closed
- Applique' armor plates on both of upper hull sides
- Detailed engine deck splash guard
- Loader's hatch w/interior detail
- One-piece chassis w/bolt details
- Fire extingushers on the hull rear
- Radio bracket w/realistic weld seams
- Commander's hatch w/periscope assembly
- Slide-molded rear stowage boxes
- Armored plate welded over MG port
- Sprocket molded w/great detail
- Layout of the OVM accurately displayed
- Gun lock can be modeled in travel or combat modes
- DS T48 tracks w/fine detail
With the increasing thickness of German armor, as well as more powerful enemy guns, it became imperative for British tanks to field a more powerful weapon than the standard 75mm armament on the Sherman. The solution was the Firefly. Although originally intended only as a stopgap measure, the Firefly with its 17-pounder gun proved very effective after its introduction in mid-1944. Its first major combat occurred in Normandy after D-Day and it acquitted itself well.
Dragon's newest 1/35 scale Allied plastic kit depicts a Firefly Ic, and thus it's based on the M4 Sherman with welded hull. This kit sensibly makes use of molds from the latest and most accurate Sherman kits to come from Dragon. However, it also includes a number of brand new parts – the turret hatch and periscope being just a couple of examples. The M4 welded hull and the turret have received thickened armor plates appropriate to this Firefly type. The weld seams are particularly well done and they look extremely authentic. Slide molds are used throughout, and there's also a generous supply of photo-etched parts. Modelers will find the T48 tracks made from DS to be extremely user-friendly. Indeed, this very well-engineered Firefly kit will light up many a modeler's face!
Reviews:

---
Kit Review: Dragon Models Limited 1/35 scale '39-'45 Series Kit No. 6568; Firefly IC Welded Hull - Smart Kit; 675 parts (554 in grey styrene, 73 etched brass, 45 clear styrene, 2 DS Plastic track runs, 1 twisted steel wire); pre-order price US$52.95 via Dragon USA Online

Advantages: first offering of this specific variant by DML; new turret and clear styrene specially done for this kit

Disadvantages: T48 tracks probably not the most common on this vehicle

Rating: Highly Recommended

Recommendation: for all Commonwealth armour fans

The Sherman Firefly was one of the few marriages of a useful gun with a useful chassis that worked, and worked well. The high-performance British 17-pdr antitank gun had a short recoil and short breech end which lent itself to fitting in the relatively roomy turret of the M4 series tanks, and so the conversions were made. By the end of the war over 2,100 Sherman Firefly tanks were converted.

But three different models of the chassis were used: the M4 welded hull with 56 degree glacis (British Sherman I); the M4 composite hull with cast glacis and welded hull (British Sherman I Hybrid); and the M4A4 with Chrysler A57 engine (British Sherman V). All of these tanks were given the "C" suffix to indicate the 17-pdr along with the project name Firefly added to the Sherman name.

From what I can glean from Mark Hayward's excellent book on the Sherman Firefly series, out of the conversions two out of three were either Sherman IC or Sherman IC Hybrid tanks. As no differentiation was made by the British on numbers – the turrets being identical – it is pretty much nigh impossible to sort out how many of the tanks were "regulars" and how many were hybrids.

Nevertheless, while most models up to this point concentrated on the Sherman VC Firefly variant, as can be seen the IC and IC Hybrid bore the lion's share of the work. However, the VC models got the lion's share of the publicity!

The bulk of IC photos extant show primarily the IC Hybrids, so any information on specific IC tanks will have to come from photos.

Given all that, DML has provided all the bits needed to make an accurate model of the Sherman IC Firefly from this kit. Using "mix and match" combined with two new sprues and a new sprue of clear parts, they have the basics for making a good likeness of the IC.

According to Hayward's plans, the Sherman IC Firefly has the modified turret with loader's hatch, full US applique armor, a blocked-off bow machine gun port, a new travel cradle on the left rear of the engine deck, flat return roller mounts, five-spoke wheels with six-spoke idlers, "machined" or "fancy" drive toothed rings, side skirts, radio box with circular access panels, and a choice of T48, T51 or T62 steel chevron tracks. The only thing missing here are the skirts, albeit etched brass skirt mounts are present.

The kit provides a plethora of options, such as any variation on the road wheels, idlers or drivers. It only provides the T48 tracks, which while not incorrect, are less common than the T62 type steel chevron ones on these tanks.

The modeler has a choice of air cleaners, either round (assembly E) or square (assembly F1/2). Attention must also be paid to opening up holes in the hull to mount all of the external bits. There are also two commander's cupolas, the stock M4 one and a British low-profile vision cupola; a .50 caliber is provided for the former but will not fit on the latter.

Technical assistance was provided by Pawel Krupowicz.

Only one finishing option is provided: Census Number T263113, 2nd (Polish) Armoured Regiment, 1st Armoured Division, Normandy 1944. Considering the famous "Rycerz-I" (T270012) from the 2nd Polish Armoured Brigade, 2nd (Polish) Armored Division, in Italy in 1945 was a Sherman IC Firefly it is curious DML included those markings with their Sherman VC Firefly kit and not this one! A small sheet of Cartograf decals is provided for the model.

Overall this is a nicely done kit and one that "completes the set" of Fireflies from DML.

- Cookie Sewell
---

Firefly Ic Welded Hull

Manufacturer: Dragon Models
Scale: 1/35
Material: Styrene & Photo-etch
Serial Number: 6568
Price: TBA

Introduction

The Firefly was originally intended as a stop-gap solution to a problem Allied tanks had with countering German vehicles with superior armour such as the Panthers and Tigers. British designs were on the drawing board, but were not envisaged to be ready for the Normandy landings. Even so, the creation of the Firefly, essentially consisting of mounting a 17 pounder gun to a Sherman tank was initially fought against by authorities. Eventually this opposition was dropped, and various design changes, such as new and repositioned recoil cylinders, repositioned breech, redesigned gun barrel and rear armoured turret bustle led to the creation of a vehicle that was ready in time for the Normandy landings and proved itself invaluable. There were three main variants of the vehicle, based upon which variant of Sherman had been used, the 1c, 1c Hybrid and VC. This kit from Dragon of the 1c has the characteristic welded angular hull, whilst the 1c hybrid had the more rounded cast hull. This one sort of completes the set for Dragon, having already produced kits of the other two m ain variants.

Kit Contents

The kit consists of a very full box of mostly large grey sprues, and some smaller transparent ones, supplied together with two lengths of tan-coloured DS100 vinyl tracks, a wire tow rope, photo-etched fret and small decal sheet. The instructions for this one run to 8 sides, with the parts map on the front going some way to explaining the full box, in that it shows a lot of parts marked 'not for use', so lots for the spares box then!

Moulding is as you would expect from this manufacturer, i.e. top drawer, no flash, and no unfortunate ejector pin marks.

Construction begins with the assembly of the running gear and suspension bogeys onto the one-piece lower hull supplied. These are superbly detailed, as you can see from the photographs below. They even have cast numbers moulded onto them. The road wheels supplied in the kit are of both five-spoked open and six-spoked closed, and the instructions indicate a choice, so which ones you use, or mix and match are really dependent on choice or references. The box art shows a vehicle fitted with the six-spoked closed wheels. There's even a choice between the type of cast suspension bogey body to be used, with the difference being what looks like a straight or upturned return roller support arm. Again, which one to more correctly use on this version I have no idea, so references or preferences. The drive sprocket is a choice between the flat or more machined version too, with both versions being supplied in the box, and the choice being indicated on the instructions, which I suppose would mean that the use of either would be correct?

Construction then moves onto the installation of the one-piece transmission cover, having separate parts representing the drive housings, which butt fit to the lower hull. The rear wall is also fitted at this point, and although there are various version of this provided in the kit, Dragon do make a definitive statement on which one to use in this case! The two half doors fitted in the rear wall are supplied as separate parts, and there's a choice of air filters offered between square or round housings.

Transparent parts are supplied for various periscopes assemblies, photo-etched parts for various details such as front fenders, grills, light guards, straps, and brackets etc. The various applique armour panels are supplied as separate panels to be fixed to the hull side walls, and all the various filler caps etc, are supplied as separate parts, allowing the maximum potential to the modeller in determining how to build and ultimately display the finished model. For example, all the on vehicle tools are supplied in two versions, one with moulded straps or clamps, dependent on tool, and once version requiring the photo-etched alternative which is supplied on the PE fret. If you decide to use the version with moulded strap/clamp, you'll need to open up a slew of holes on the upper hull, all of which are indicated on the instructions. Whilst on the upper hull, the travel lock for the main gun is now redesigned and located on the rear left corner.

Construction then begins on the newly tooled turret for this vehicle. This is supplied as a slide-moulded one-piece shell as you probably expect given its shape, and exhibits a subtle cast texture. There are two types of commanders' cupola supplied in the kit, with the instructions offering a choice. On one of them the supplied .50 cal can be mounted, whilst on the other it can't. Again, references or preferences. Although there is detail provided on the inner surfaces of the hatches, there is no internal detail whatsoever provided for the turret, so if you're going to display any of the hatches opened, you'll need to obscure the inside with a crew figure.

The tracks supplied with the kit are of the vinyl one-piece type, which offer the advantage that they require little work to install, and can be cemented using normal styrene cement. They are of the T48 rubber chevron type.

Markings-wise there is only one scheme on offer, which shows a vehicle of the 2nd Armoured Regiment, 1st Armoured Division, in Normandy during 1944. Take a guess what colour it is! Alternatively....look at the box art....

Conclusion

It's a great kit, superbly engineered, with sensible choices included and nice finishing touches such as photo-etch etc. More marking schemes would have been nice, but then most Allied modellers will easily be able to source alternative markings if they wish them. Highly recommended.

- Vinnie Branigan
---
Kit, DML 6568, Firefly Ic Welded Hull

DRAGON MODELS LIMITED
Product Specifications.
6568, Firefly Ic Welded Hull. 1/35th-scale styrene/multimedia kit containing 446 styrene parts (including 39 clear), two DS100 soft styrene track lengths, one length of braided metal wire, one etched brass fret, one water-slide decal marking scheme and eight pages of instructions in 12 steps.
Introduction.
The least-numerous 17-pdr.-armed Firefly was the Sherman Ic, based on the M4 welded hull with 56-degree glacis and cast drivers hoods. DML has taken the turret from their recent composite-hull Sherman Ic kit, married it to their Normandy M4 kit and added some new parts to make up this version. Aside from some detail items, there is a new stowage box peculiar to this version (more about that below) and new decals. Not letting things lay, DML has also included a British-style commanders cupola that provided for all-around vision with a total of eight periscopes mounted around the rim. All of the parts for this item come on one clear sprue; this is in addition to the original clear sprue that contains head-lamps, the remaining periscopes and other items.
Tracks.
These are composed of two lengths DS100 material, molded in soft styrene, which can be fixed together using standard styrene cement. They represent rubber chevron types and the detail is typical of tracks molded in this fashion: crisp and accurate. DMLs use of a slide-mold allows for particularly well-rendered end-connector detail. The modeler is advised to ensure that the idler wheel axle (a separate part) is doing its job, so the tracks are properly tensioned, before fixing it in place. The modeler must slightly modify parts C6 and C7 (remove the small square tab) so that the axles can be adjusted. Many modelers have reported fit problems regarding the length of the tracks, so shortening the runs by one or two links may be necessary.
Suspension System.
The kits VVSS suspension system is the mid version, consisting of the heavy-duty type D47527 bogie trucks with the straight support roller bracket, C100334; the rollers are raised by a pillow block. The track skids are separate and have a fairly thin profile; four mounting bolts should be added. Enough bolts are given in the kit on the adjacent sprues, but these are neither numbered nor are they called out in the instructions. The return roller brackets also need some bolts added but these must be sourced elsewhere.
The main units are detailed with casting texture and seams as well as foundry numbers; they only need four small holes drilled on their forward faces to be as complete as can be. There are two styles of road-wheels given: D85163 stamped with six spokes and D38501 welded with five spokes. The stamped wheels have separate backs and both styles feature properly-placed grease nipples and relief valves. The drive sprockets are provided in three styles: two open type and one smooth type. The idler wheels are also given in two styles: stamped with six spokes and welded with six spokes. Because of the sprue layouts, there are also bogie trucks included that have the up-swept return roller arms. These will come in handy for the ever-expanding spares bin.
Hull.
The lower hull is provided as a single part and depicts the welded type. It features proper rivet, panel and rib details on the belly plate. The hull sides also receive separate mounting and adapter plates for the VVSS brackets, as well as the mounts for the idler wheels. The hull side walls are devoid of any other detail, so the column of bolts typically seen up front just aft of the transmission/final drive housing will need to be added.
Although there are two cast transmission/final drive housings in the box, only one is for use. It is the one-piece cast type with the pointed beak. This is a recently-tooled item featuring separate side walls with properly-sized final drive housings as well as flange and bolt details molded in place. The upper bolt strip where it meets the glacis plate is a separate part. It also features foundry numbers and symbols, as well as a nice cast texture. All it needs are drain plugs in the proper places below.
There is a choice of two rear hull plates as well as two styles of separate engine compartment access doors. Other items such as separate grab handles for the access doors and the usual tow shackles and their mounts are given; a British-style trailer hitch and mount is provided if the modeler wishes to add this common up-grade. There are two types of multi-part carburetor air cleaners. One represents the square type, which is embellished with etched brass parts. The second is a round style, and is new for this kit.
Upper Hull/Superstructure.
This features a typical M4 welded type of rear end with a segmented, welded/cast bow. The drivers hoods represent the cast D77160A and D77160B configuration quite well and have very nice texture and weld beads. The remainder of the bow features weld beads delineating the separate panels, mounts for head-lamps, antenna pot and machine-gun blister. Up on top are the pair of mushroom vent covers, various splash plates, tow cable clips and weld beads; all of these details are well and crisply-rendered.
This kit is provided with a full array of hull applique armor plates for the hull side walls and the drivers hoods. They feature fine weld bead detail and the proper configuration for this type. It should be noted that the side plates have weld bead details on all four of their edges; as I understand it, the lower edge was welded in some instances and not in others, so this detail can be eliminated if not needed.
The drivers and radio operators hatch lids each have separate grab handles, periscope heads, covers and rotating plates; the scope heads come as clear styrene items and they can be shown opened or closed. Delicately-molded brush guards are provided for the periscope heads. Separate clear styrene head-lamps are provided; can be protected optional by etched brass or styrene brush-guards. The usual lifting hooks are also provided, as is a horn with an etched brass brush-guard, and the peculiar angle iron piece seen on the center of the glacis plate (also in etched brass). The front fenders are made from etched brass parts for maximum scale fidelity.
There are no sand shields included in the box, but there are etched brass mounting strips provided for the lower edge of the upper hull/superstructure.
Separate filler caps are fitted to three locations on the main superstructure molding, with another two going on the engine air inlet plate. That plate has a separate air inlet cover, which is complimented on the inside by etched brass screening. A separate rear engine bay access hatch lid is also provided, as is the final section of the roof plate. All tools are separate and are delicately molded; they include straps made from etched brass. It should be noted that there are no visible locator holes for the tools; they are inside and must be opened up when needed. This feature will save time for the modeler who may opt to use after-market tools and brackets. Separate fuel tank vent/grouser box covers are given along with their attendant etched brass screens. Lift rings are given, and the tail-lamps are based on clear styrene parts. Piping and exhaust fish-tails, which are open at their ends, complete the rear deck. The final item is a tow cable made of styrene end-loops, braided metal wire and etched brass retainer parts.
Since this tank mounted the 17-pdr. main gun, a styrene and etched brass gun crutch is fitted at an angle on the rear deck. Care in assembly will allow this to be movable. Also unique to this kit is a stowage box; it is based on a slide-mold and has a separate lid; it fits on the rear plate of the upper hull much like the stowage bin on a Panther.
Turret.
The turret is a low bustle type. The roof has been modified to fit the square British-designed loaders hatch, and also includes an opening for the 2-inch smoke mortar. The turrets upper shell comes from a slide-mold; some work will be needed to remove a mold seam where the pistol port is, with texture then added to the area. There is a separate pistol port hatch lid with a separate hold-open latch. The basic details for the turret are molded in place, including the opening for the antenna base mounting plates and mushroom vent cover. The turret has a nice cast texture, but there are no foundry numbers or symbols present. The lower part comprises the turret ring.
The new mantlet and rotor shield are both very well-textured and the mantlet features foundry casting number details. The co-axial .30 cal. Browning is slide-molded with pre-drilled bore and proper cooling jacket details. It is part B-34 and is nowhere to be seen in the instructions. Fit it in the port-side opening using references and move on. The 17-pdr. main gun is a two-part affair: the main part consists of the complete gun tube with one half of the muzzle brake molded in place, while a second half for the muzzle brake completes the assembly. It compares well with scale drawings and photos, but it appears that the 17-pdr. gun tube may sit too deeply in the mantle.
The commanders high-profile split-hatch cupola is made up of a total of 11 parts to include: separate split hatch-lids, a clear periscope head, separate cover, rotator plate and finely-rendered brush guard. Various levers, handles, latches, and machine-gun barrel rest complete the assembly. As mentioned in the intro, the British vision cupola is provided as an option. Three parts make up the ring, and the lids are separate parts that are embellished with several separate etched brass and styrene detail parts.
Separate turret lift rings and various fittings to stow the .50 cal M2 machine gun are given. The gunners sight has a separate base and cover and a clear part for the periscope. Fine styrene brush-guards are given for the loaders periscope, which is composed of multiple parts like that which is fitted to the commanders cupola hatch lid. A commanders vane sight is a single, delicately-molded styrene part, while the blade sight is made up of a pair of etched brass parts.
The British-designed loaders hatch features a separate multi-part styrene and etched brass lid, and is complimented by a four-part, etched brass rest bracket for the hatch lid, when in the open position. Separate detail parts are given for the turret to include proper British-style radio antennae bases for the Number 9 set; these are made from styrene and etched brass parts. No rod antennae or instructions for creating them are provided.
The turrets rear has the armored box for the radio set as a separate, multi-part assembly. It is the configuration that has three round vent covers on the top plate. It needs weld detail added where it attaches to the turret.
A very well-done .50 cal. M2 heavy machine-gun is provided. It is based on a slide-molded barrel and receiver core, which features internal receiver group detail, properly perforated and fluted barrel cooling jacket and opened bore. A separate receiver cover, hand-grips and cocking lever complete the core assembly. The gun tube also features a barrel changing/ carry handle molded in place. Early and later pintle and ammo box configurations are provided. One features the smaller 50-round ammo box in a multi-part etched brass and styrene assembly; it has an earlier pintle without the counterbalance spring. The second type features the 100-round ammo box and pintle with counterbalance spring.
Molding, Fit and Engineering.
Overall, there should be no problems with the fit of any major or minor component, based on my experience with previous DML kits with these parts. Again, it should be noted that the tracks may present a problem. No sink marks were found, and there were no visible ejector pin marks.
Accuracy and Details.
Based on the cited references, I have no completely reliable 1/35th-scale plans to compare the kit parts to. The relatively few photographs available indicate the kit is accurate from a visual standpoint. The photos can be seen in the following locations:
Ref.2, page 11.
Ref.3, page 81.
Ref.4, 12 photos beginning on page 58.
Ref.5, page 115; page 92 features British cupola.
Any other issues have been addressed above.
Instructions.
These are well-drawn and rather easy to follow.
Decals and Markings Information.
Cartograf has supplied its usual fin product. The designs are crisp, finely-detailed, in register and feature thin, matte, closely-cropped carrier film. Markings for one Polish vehicle are provided. They depict a tank from the 2nd Armored Regiment of the 1st Polish Armored Division, as supposedly seen in Normandy in 1944.
Conclusion.
This is the least-produced version of the Firefly and because of that, photos are slim on the ground and not much in the way of markings are available. In particular, the use of the British cupola was exceedingly rare and only one extant photo bears that out. Nevertheless, this is a good variation to kit and it certainly fills a gap in the Firefly story.

- Frank De Sisto
ITEM NUMBER:
6568
SCALE:
1:35
BARCODE:
089195865687
RELEASE DATE:
April 2012
RETAIL PRICE:
USD 52.95 (MSRP)
JPY 4500 (Tax Excluded)
LAST UPDATE:
4/13/2012
SERIES:
DISCLAIMER: While all models portrayed in website photographs represent actual models, please note that these are prototypes and that final model products may vary slightly
Copyright 1998-2016 Dragon Models Limited. All Rights Reserved.