StuG.III Ausf.G May 1943 Production mit Schurzen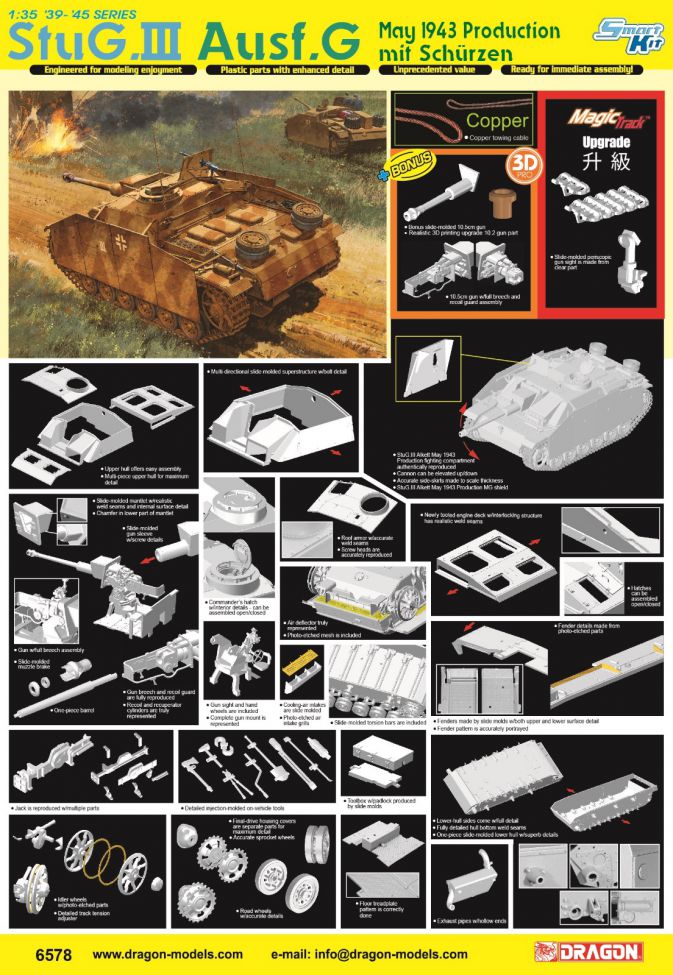 Subject: Review - DML 1/35 scale StuG III Ausf. G May 1943 w/Schuerzen

Kit Review: Dragon Models Limited 1/35 Scale '39-'45 Series Kit No. 6578; StuG III Ausf. G May 1943 Production mit Schuerzen - Smart Kit; 463 parts (407 in grey styrene, 28 etched brass, 13 clear styrene, 12 etched nickel, 2 DS Plastic tracks, 1 length of twisted steel wire; pre-order price US$56.95 via Dragon USA Online
Advantages: StuG production model with schurtzen added to the kit
Disadvantages: no zimmerit; now has DS plastic track runs vice Magic Link tracks
Rating: Highly Recommended
Recommendation: For all German and "Stug" fans
Believe it or not, this is the 12th DML release of a Sturmegescheutz III Ausf. G vehicle. This time it has some changes to the basic body work from the early production variant and also comes with a set of DS Plastic tracks vice the single-link Magic Track of past kits.
As before, this kit provides an "earlier production" – e.g. welded mantelet/recoil cover vice the later "Saukopf" mantelet – version of the Ausf. G. It uses individual torsion bars and road wheel arms as well as all of the external details on the lower hull such as shocks and bump stops. Each idler wheel consists of nine parts with two three-piece brass inserts between the plastic castings; the directions still read for the first release of the kit with one piece rings, however. All wheels are detailed to the point of having the rubber tire manufacturer's data readable!
The brass is provided only for those bits where plastic cannot do the job, such as the aforementioned wheel rims and the air intake and exhaust grilles on the engine deck plus some non-slip gridding. All fender details are separate and go on in subassemblies. In point of fact, most of this model consists of subassemblies, which is how it gets its tremendous level of details.
The kit comes with a high level of interior parts, including the gun, commander's cupola assembly, floor, and the radios and stowage racks for various bits on each side of the casemate.
Likewise the engine deck consists of several subassemblies combined to form the deck. Note that every hatch on this vehicle can be opened for display of the interior, but there is no engine or transmission provided.
Final assembly again has a number of different modules combined into one final assembly – lower hull, fenders, engine deck, interior, gun barrel, casemate, and tracks. Oddly enough, while the radios and antenna bases are supplied, no comment is made about the antennas for them!
Anyone who has done any of the other DML kits with "schuerzen" will recognize the concept of using styrene hangers and etched nickel plates, and this kit has the same options with it. There are two angled end pieces and two overlapping center sections provided for each side of the vehicle.
The kit does not come with any "zimmerit" which photos show applied to vehicles just like this one, and it will disappoint more than a few modelers. It now comes with the single piece DS Plastic runs vice the single link "Magic Tracks". Modelers seem to fall into one of the two camps about tracks; it is a shame DML doesn't simply provide BOTH types with kits like this to give modelers the option and finally put an end to the naysayers of either option!
Technical advice for the kit is credited to Tom Cockle and Gary Edmundson.
Only two different finishing options and a targeted Cartograf decal sheet are provided: SS Pz.Rgt. Totenkopf, SS Pz.Gren.Div "Totenkopf", Kursk 1943 (green over sand, white crosses and tactical insignia); and Pz.Abt. 215, 15th Pz.Gren.Div., Sicily 1943 (sand overall, no markings).
Overall, this is another version but raises the question of how many StuG III kits are really needed?
Thanks to Freddie Leung for the review sample.
Cookie Sewell
Sprue layout
A 61x2 Wheels and torsion bars (7 mini-sprues connected)
B 48 Road wheel arms and lower hull details
C 31 Casemate and fenders
D 31 Basic upper hull details
E 34 Interior and radio sets
F 16 Gun barrel and mantelet
F 18 StuG III schurtzen hangers
G 15 OVM and light components
G 55 Fender and upper hull details
G 24 OVM and hull details
H 1 Lower hull pan
J 13 Clear styrene
L 12 StuG III Ausf. G engine deck, upper and lower glacis
L 1 DS Plastic Track Run – Left
R 1 DS Plastic Track Run - Right
Z 1 Twisted steel wire
MA 28 Etched brass
MB 12 Etched nickel
Features:

StuG.III Alkett May 1943 Production fighting compartment authentically reproduced
Cannon can be elevated up/down
Accurate side-skirt in scale thickness
StuG.III Alkett May 1943 Production MG gun shield
Steering brake inspection hatch can be modeled open/closed
Newly tooled frontal armor realistically presented
Upper hull w/easy assembly
Multi-piece upper hull for maximum Detail
Multi-directional slide-molded superstructure w/bolt detail
Newly tooled engine deck w/inter-locking structure has realistic weld seams
Hatches can be assembled open/closed
Driver vision port w/clear plastic part
One-piece driver vision port armor w/nut details
Slide-molded mantlet w/realistic
weld seams and internal surface detail
Chamfer in lower part of mantlet
Slide-molded gun sleeve w/screw details
Commander's hatch w/interior details - can be assembled open/closed
Roof armor w/accurate weld seam
Screw heads are accurately reproduced
Floor treadplate pattern is correctly done
Air deflector truly Represented
Photo-etched mesh is included
Radio set and seats are included
Fender details made from photo-etched parts
Gun w/full breech assembly
Slide-molded muzzle brake
One-piece barrel
Gun breech and recoil guard are fully reproduced
Recoil and recuperator cylinders are truly represented
Gun sight and hand wheels are included
Complete gun mount is Represented
Cooling air-intakes are slide-molded
Photo-etched air-intake grills
Slide-molded torsion bars are included
Fenders made from slide-molds w/both upper and lower surface details
Fender pattern is accurately portrayed
Jack is reproduced w/multiple parts
Brand new OVM
Tool box w/padlock produced by slide-molds
One-piece slide-molded lower hull w/superb details
Lower hull sides come w/full detail
Fully detailed hull bottom weld seams
Idler wheels w/photo-etched parts
Detailed track tension Adjuster
Final drive housing covers are separate parts for maximum detail
Accurate sprocket wheels
Road wheels w/accurate details
Cable heads are slide-molded
Slide-molded periscopic gun sight is made from clear part
Exhaust pipes w/hollow ends
Newly produce 40cmDS tracks
ITEM NUMBER:
6578
SCALE:
1:35
BARCODE:
089195865786
RELEASE DATE:
March 2014
LAST UPDATE:
3/19/2014
SERIES:
DISCLAIMER: While all models portrayed in website photographs represent actual models, please note that these are prototypes and that final model products may vary slightly
Copyright 1998-2016 Dragon Models Limited. All Rights Reserved.