1/35 Red Devils w/Welbike and Drop Tube Container, Arnhem 1944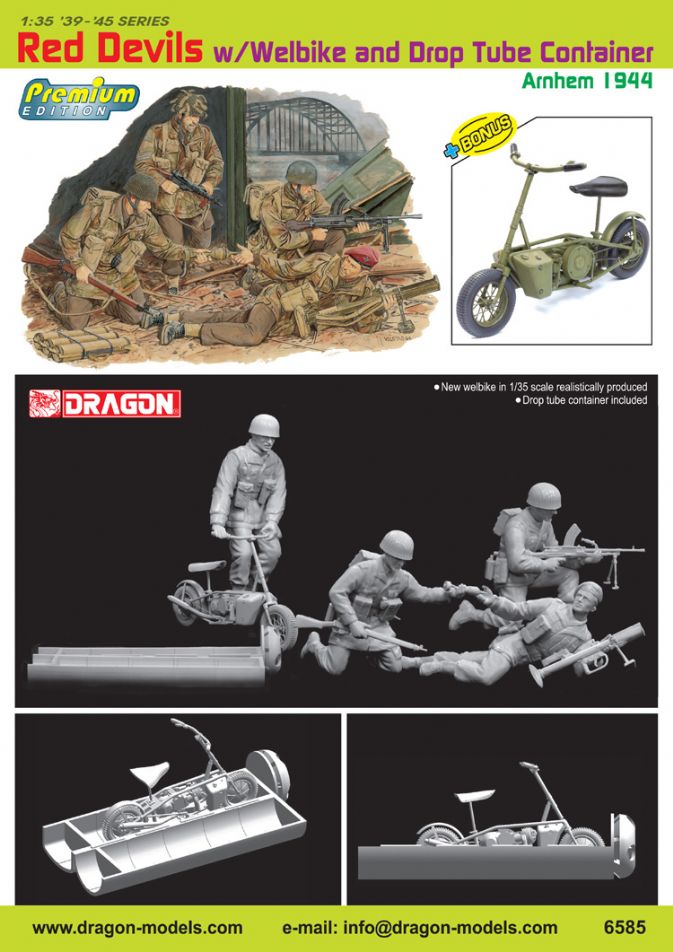 Barcode: 0 89195 86585 4
Case Pack: 48 Pieces Per Master Carton
Box Size: 6.4" x 10.2" x 1.9"
Features:
- New welbike in 1/35 scale relistically produced
- Drop tube container included
The fierce fighting that took place in Arnhem during Operation Market Garden (17-25 September 1944) in WWII, will forever remain in the lore of the British "Red Devils". The entire 1st Airborne Division, about 10,000 strong, was earmarked to capture and hold Arnhem Bridge in Holland until the main Allied force reached them. Unfortunately, the main attack stalled, leaving the "Red Devils" to fight on unsupported. Paratroopers, some wielding only their fighting knives, continued to fight until the last radio message was broadcast: "Out of ammo. God save the king!" In the end, in an amazing feat of bravery, less than 1000 British paratroopers defended one end of the bridge against heavy enemy attacks for twice as long as was originally foreseen.
This famous battle is commemorated in Dragon's new 1/35 scale figure set entitled "Red Devils w/Welbike Drop Tube Container (Arnhem 1944)". The box contains a Premium Edition set, meaning it utilizes previously released figures. However, the exciting item has been enhanced with the inclusion of a new Welbike, a compact British-designed motorbike devised especially for covert operations. In actual fact, a total of 3853 Welbikes were produced in WWII, with many used in Operation Market Garden. The 1/35 scale model bike has been carefully reproduced in fine detail, and it constitutes a novel centerpiece for any vignette. The set includes four finely molded figures in combat poses, complete with a generous amount of personal equipment. It also associated parachute drop container. This famous battle in the history of the Parachute Regiment can now be recreated by modelers even more dramatically thanks to this figure set from Dragon.
---
Reviews
Kit Review: DML 1/35 scale '39-'45 Series Premium Edition British Figure Sets
Kit No. 6585; Red Devils w/Welbike and Drop Tube Container Arnhem 1944; 113 parts (98 in grey styrene, 15 etched brass); estimated price about US$16-19
Kit No. 6586; 2nd SAS Regiment w/Welbike and Drop Tube Container France 1944; 112 parts (97 in grey styrene, 15 etched brass); estimated price about US$16-19
Advantages: very nicely molded Welbike and drop container with etched brass details; nicely done figure sets, with Commonwealth figures always at a premium
Disadvantages: "Gen1" weapons; DML playing "dirty pool" by only providing ONE Welbike option per kit!
Rating: Highly Recommended
Recommendation: for Commonwealth and Airborne Forces fans
Every major country formed airborne forces for the Second World War – the USSR, Germany, Britain and the US. But as these were light infantry whose only great advantage was mobility, they either needed specialized weapons which could drop with them or glider-borne support vehicles and systems. While the gliders were capable of carrying standard weapons like jeeps and light antitank guns up to 57mm caliber, the same was not true of the C-47 (Dakota) transports which were the primary carrier for US and UK airborne troops. Both countries developed small courier motorcycles which could be air-dropped for forces once on the ground, with the US creating a Cushman and the UK the Welbike.
These were basically semi-rear area machines as they were only marginally capable of off-road performance, but would speed up communications where radio was either not available (or as at Arnhem inoperable for most of the operation).
Recently the humble Welbike has now come to the attention of model companies, and this is the second effort to reach the market. DML has provided a 34 piece version of the little bike and a 16 piece drop container to go with it in each of two of the older figure sets, No. 6023 "Red Devils" and No. 6199 2nd SAS Regiment. The bikes are little gems with the engine alone consisting of 10 parts and the bike offering an option of either a styrene or brass chain and rear gear set. The spokes are plastic but among the finest moldings I have seen (and three dimensional) so only the purist would want to replace them with brass.
But – DML pulled a fast on the modeler. The "F" sprue with the Welbike comes with two "ears" – a left and right – and they "gated" them on each kit. 6585 comes with the left "ear" which is the set of parts for the Welbike in operating condition with the handlebars raised and unfolded; 6586 has the right "ear" with the parts for the Welbike in folded condition. In other words, you do not get an option with either kit and will have to get both of them to get a choice!
Beyond that, the figure sets remain excellent. Both are based on Ron Volstad artwork, but the internal directions are unfortunately the "stick here" variety and not the Volstad ones with the figures showing specific painting instructions. Both sets are in jump smocks with the 1st Airborne in airborne helmets and the 2nd SAS in berets. All figures are in semi-action poses but the arms provide for the standing figure in the 1st Airborne set and the kneeling figure in the SAS set to be holding or working on the Welbike with the optional set of arms (which come with jump smock sleeves).
Overall these are nice little kits and the Welbike is a jewel, but it would have been nicer if DML gave the modeler the option of open or closed!
- Cookie Sewell
---
DRAGON MODELS LIMITED
Product Specification.
6385, Red Devils w/Welbike & Drop Tube Container. 1/35th-scale styrene figure set containing 98 styrene parts, one etched brass fret and full-color instruction leaflet.
6386, 2nd SAS Regiment w/Welbike & Drop Tube Container. 1/35th-scale styrene figure set containing 97 styrene parts, one etched brass fret and full-color instruction leaflet.
Introduction.
DML has just re-issued a pair of older figure sets with new parts to depict the British Welbike, which was a fold-up miniature motorcycle. Originally designed for the SOE (Special Operations Executive) by their Station IX, this progenitor to the recreational mini-bike saw service in NW Europe with specialist troops from the Parachute Regiment and the SAS Regiment.
The Welbike.
Made up from 31 styrene parts and an optional etched brass part, each kit features a slightly different version of the Welbike. The item included with the Paras can be constructed in its operational configuration. The item included in the SAS set can be configured in the folded for transport configuration. So, to start with, the modeler who may wish to purchase one of these kits should be aware that the bike can be built in only one way, depending on the set of figures it has been issued with.
The bike is made up from some very delicate styrene parts, some of which are extremely tiny. Care in the handling of the parts and in their construction will be the order of the day. The single etched brass part is an optional chain drive section, which can be used instead of the provided styrene part. The overall appearance of the completed bike is quite delicate, with the wheels spokes of particular note.
The Drop Container.
The container appears to be, from the cited references, below, a Type C. It can be shown opened or closed and is based on six styrene parts, with etched brass parts for the interior frame details. It appears to match photos rather well, but there is some detail missing on the inside, specifically some D-shaped tie-down rings. These could have been supplied as etched brass parts, but they were overlooked. Note that these were sometimes camouflaged, so the nmodeler has some latitude regarding their finished appearance.
The Red Devil Figures.
Figure 1 depicts an NCO, walking with a Sten gun at the ready. He is dressed in typical Para clothing to include the Denison smock and rimless helmet. Figure 2 depicts a kneeling Bren gunner, firing from the hip. He is dressed similar to figure one. Figure 3 is on both knees, holding his Lee-Enfield rifle in his right hand while handing off a PIAT bomb with his left; next to him is a three-round carry case for PIAT bombs. Figure 4 is a prone PIAT gunner who supports the projector with his left hand as he reaches back with his left hand for the proffered PIAT bomb; unlike the others, he wears his beret.
The SAS Figures.
Figure 1 appears to be an officer, as he is wielding a pair of binoculars. He is down on one knee holding a US M1 carbine in his right hand. Figure 2 is standing, legs apart, holding a US Thompson SMG, ready to fire from the hip. Figure 3 is also standing, holding a Bren gun, and again, appears about to fire from the hip. All of these gentlemen wear standard battle dress with camouflaged, hooded anoraks over them. The final figure is dressed similarly, but wears a leather jerkin over his battle dress; he also weilds a US M1 carbine. All wear the units signature beret.
Weapons and Equipment.
All weapons are very finely rendered, with many featuring separate parts such as bipods or magazines. The PIAT is broken down into five parts for maximum detail fidelity. The soft gear is typical for British soldiers of the era and includes water bottles, magazine pouches, packs, entrenching tools, bayonets, pistol holsters and other smaller pouches.
Instructions.
These are printed in full color on a single leaflet. They provide for the assembly and painting of all items. The colors themselves are keyed to Gunze or Testors paints. Overall, the information is clearly and concisely presented and should be no problem for the average modeler.
Conclusion.
Both of these kits provide a competent set of figures, with the better of the two being the SAS operatives. They are provided with separate collars and hoods for their anoraks and are more crisply detailed than the Paras. It would appear from the original Ron Volstad box art that theSAS set is from 2004 and the Paras from 1994, thus the difference in technique. Regardless, with resin heads, some etched brass weapons slings and careful painting, either group will look quite fine. The choice of folded or operational configuration for the Welbikes is a nice idea, but the modeler must be certain which configuration he wants prior to purchasing a particular set.
- Frank V.De Sisto
ITEM NUMBER:
6585
SCALE:
1:35
BARCODE:
089195865854
RELEASE DATE:
November 2009
RETAIL PRICE:
USD 10.95 (MSRP)
JPY 1050 (Tax Excluded)
GBP 10.99 (Ref. Retail Price)
EUD 12.5 (Ref. Retail Price)
LAST UPDATE:
9/21/2009
SERIES:
DISCLAIMER: While all models portrayed in website photographs represent actual models, please note that these are prototypes and that final model products may vary slightly
Copyright 1998-2016 Dragon Models Limited. All Rights Reserved.