1/35 Pz.Kpfw.IV Ausf.H w/Zimmerit, Mid-Production, HJ Div. Normandy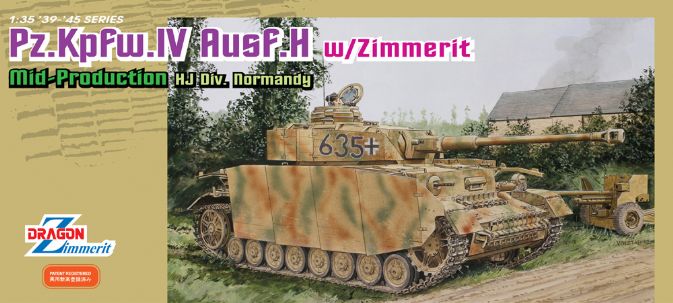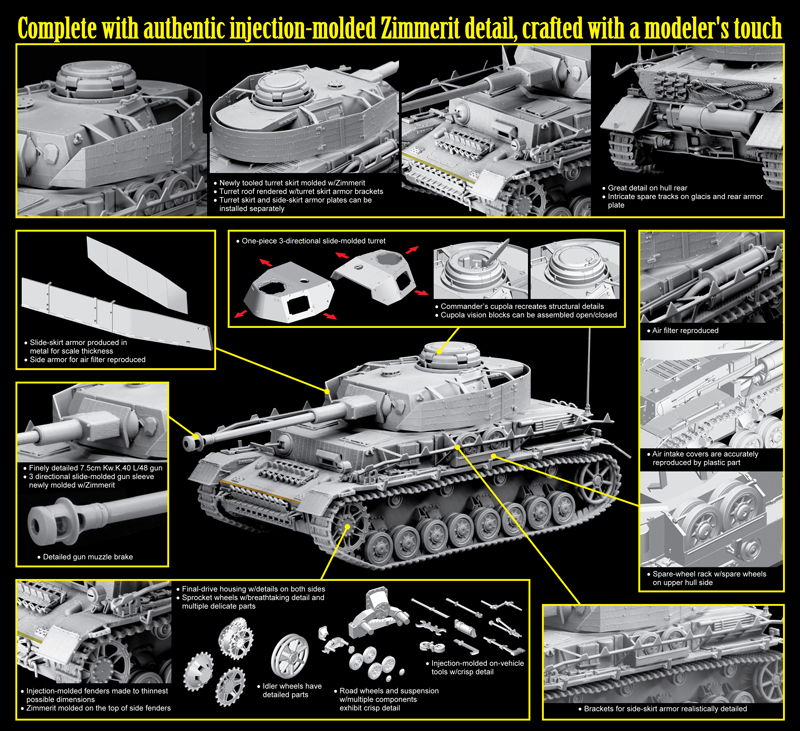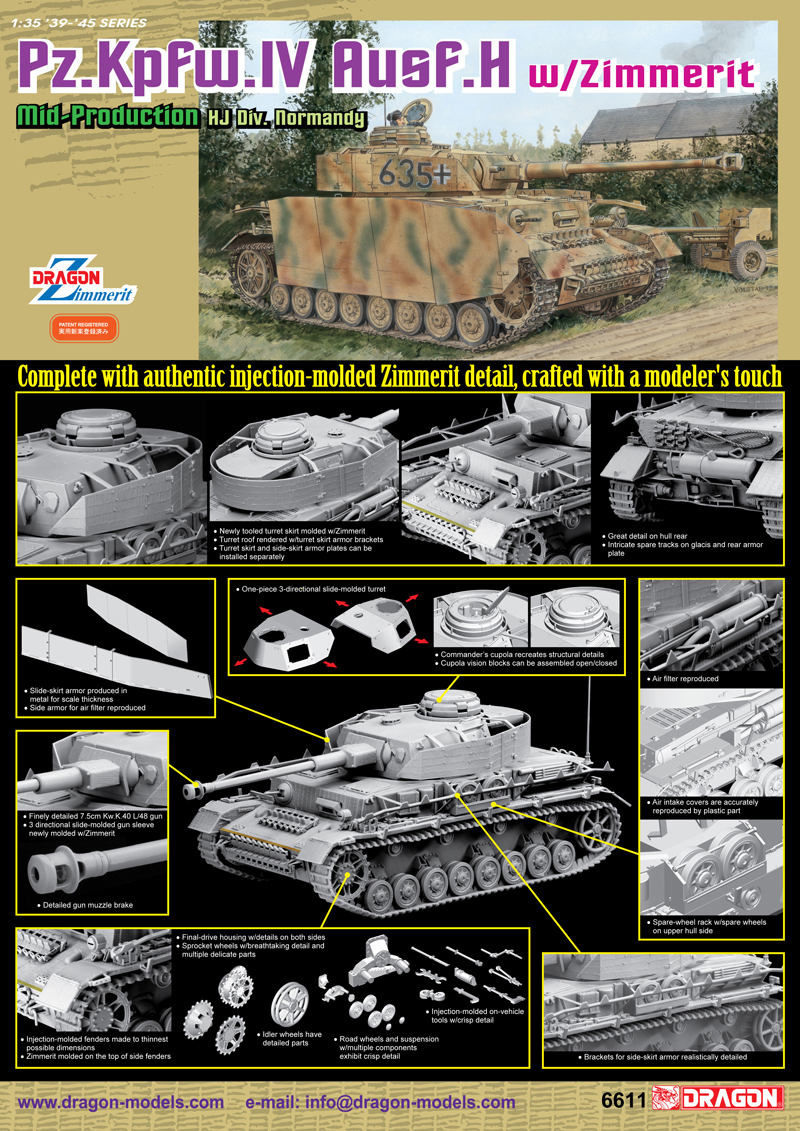 Barcode: 0 89195 86611 0
Case pack: 20 Pieces per carton
Box Size: 9.6" x 15" x 3.1"
Features:
Newly tooled turret skirt molded w/Zimmerit

Turret roof rendered w/turret skirt armor brackets

Turret skirt and side-skirt armor plates can be installed separately
Great detail on hull rear

Intricate spare tracks on glacis and rear armor plate

Spare-wheel rack w/spare-wheels on upper hull side
One-piece 3-directional slide-molded turret
Commander's cupola recreates structural details
Cupola vision blocks can be assembled open/closed
Slide-skirt armor produced in metal for scale thickness

Side armor for air filter reproduced
Air intake covers are accurately reproduced by plastic part
Finely detailed 7.5cm Kw.K.40 L/48 gun
3 directional slide-molded gun sleeve newly molded w/Zimmerit
Detailed gun muzzle brake
Injection-molded fenders made to thinnest possible dimensions

Zimmerit molded on the top of side fenders

Brackets for side-skirt armor realistically detailed
Air filter reproduced
Injection-molded on-vehicle tools w/crisp detail
Final-drive housing w/details on both sides
Sprocket wheels w/breathtaking detail and multiple delicate parts
Idler wheels have detailed parts

Road wheels and suspension w/multiple components exhibit crisp detail
Dragon offers a complete lineup of the popular Panzer IV family tree in 1/35 scale. Now it is time to fill in a gap with this special variant! It's an Ausf.H Mid-Production, and it specifically represents a vehicle fighting in Normandy in 1944. One unit to field the Panzer IV H was the 12th Panzer Hitlerjugend Division, with the formation's combat debut occurring on 7 June 1944 as German forces began a ferocious defense of Caen in the Normandy area against Canadian and British units. It was one of the closest divisions to the landing beaches. When the German division eventually escaped the Falaise pocket, it had lost 42% of its personnel and 94% of its armor.
This 1/35 scale plastic kit features a number of newly tooled parts, one example being the turret side skirts that have their own layer of readymade Zimmerit. Also brand new is the frontal armor plate containing the steering-brake hatches. This too bears a coating of Zimmerit, which is beautifully sculpted and looks extremely authentic. The inclusion of Zimmerit on this kit is certainly a highlight, as it saves modelers from the time-consuming task of recreating the texture themselves. The box comes with a generous selection of Cartograf decals, all of which cover those panzer divisions operational in Normandy, including the Hitlerjugend and 2nd Panzer Divisions. For those model-makers recreating a scene from Normandy, this is the perfect foundation on which to base it!
---
Reviews:
---
DML 6611 Pz.Kpfw.IV Ausf.H with zimmerit mid-production
(H.J. Div. Normandy)

1/35 injection plastic kit with photo etch

Photos from Normandy in 1944 frequently show mod-production Panzer IV Ausf H covered in zimmerit including in some well known photos from Hitlerjungen Panzer Division. Photos from this Division, and others, such as Panzer Lehr at Viller-Bocade, often show zimmerit on the turret shurzen.

This new release of a mid-production Panzer IV Ausf H with zimmerit includes the zimmerit on the turret schurzen which is a first for a major 1/35 kit. The pre-zimmerited parts have the horizontal ridge pattern most common in photos, and include all surfaces which were covered by zimmerit in the factories including the front glacis, front of the turret, fender flaps and the hull's rear plate. Applying zimmerit in the factory became standard practice during production of the Ausf H.
On these tanks, zimmerit was generally not applied to either the hull schurzen or the surfaces behind the schurzen (e.g. turret sides).

CONTENTS
This kit is in the Smart Kit format and has new tooling for the zimmerit covered turret schurzen shields and front glacis. Other features of the mid production Ausf H include the longer L/48 barrel, a pre-filter on the right hand fender (dropped in February 1944), one piece 80 mm frontal armor and triangular mounting points for the side skirts. Most parts are shared with Dragon's other recent Ausf H releases.
The 21 step gatefold instruction sheet is clearly laid out, and experience with other Dragon Panzer IVs indicates that the parts are easy to clean up and fit together sharply. The inclusion of one piece tracks will speed up assembly. Spare and alternative parts provide flexibility in depicting various Panzers, but do require double checking of parts numbers etc in some steps.

The photo etch fret is new to this release and has a few more parts than in some related kits, including a strip of zimmerit for the edge of the front glacis. Other parts are the flaps for the side plate engine vents, baffles below the engine deck hatches, bracket for the towing clevis, bracket from front hull schurzen, chains for securing the jack block, tail reflector, detail on the rear convoy light, turret mounted vane and a pair of fender supports.

The metal side skirts are thin to give a realistic in scale effect and can be bent to depict frontline service. With each panel being separate it is easy to depict a Panzer missing the odd panel. The panels have the positions for the plastic D brackets marked on to simplify assembly. The mounting rails are plastic with the triangular supports that were introduced during the Autumn of 1943 to mid production Ausf H.

AUSF H PRODUCTION HULL

The lower hull is accurate for a mid-production Ausf H which had non-interlocking joins on the hull front (interlocking front joins with extended sides were common from 1944) and included pre-zimmerited parts which match photos of the kits for which the decals are provided.

The air pre-filter that was a distinctive feature of early and mid production Ausf H is a pair of vertically mounted cylinders and the associated inlet, outlet and mountings. These are sharply tooled and fit together well due to careful tooling. Each cylinder is tooled as a single piece cylinder eliminating the need to bother with cleaning up glue seam marks. The right hand side upper hull side armor plate is specific to the mid production H to allow for the pre-filter, providing detail that was missing on some older kits.
As expected slide-molding is used to provide detail on the bottom and sides such as weld beams, counter sunk holes and screw heads. Other features such as the drive housing and the use of separate parts for the rear idler mount, bump stops etc are as expected for a Smart Kit. Correct for an Ausf H, on the rear plate there is an auxiliary electric generator for the turret traverse which is a separate part (deleted on Ausf J). The rear exhaust is a detailed multi-part assembly with a hollowed outlet. The tow cable is made from twisted wire with plastic end eyes.
The newly tooled mid production glacis plate with brake access hatches and the 80mm thick lower front hull have cast on zimmerit and retain crisp detail for the bolt heads and hinges. The spare tracks mounted on the glacis plate have no visible injection marks while the lower spare track rack can be filled with Magic Tracks of which 14 (no visible injection marks) are included for these and the spare links mounted on the hull rear.

The upper hull is based on a single piece, which has excellent detail for the turret race, screw heads with slots, countersunk holes and rain guards. The driver and radio operator's hatches have splash guards and both hatches can be modeled open. The aerial (rod included) is on the left rear. The forward MG34 has a workable ball mount and internal detail. The engine hatch can be modeled open although you will need to add your own Maybach HL 120 engine. The baffles below the hatches are photo etch. The kit also includes pre-zimmerited upper hull side armor plate for an Ausf H Late which with an easy modification (for the filters) would give you extra options.

The fenders have an anti-skid pattern on both faces and separate front and rear fenders (pre-zimmerited). There is one Bosch headlamp, multipart jack, and the barrel-cleaning rod is stored on the left rear of the hull. The spare road wheels are stored in an open metal box/bin on the left fender. The holes for the tools are predrilled and the bottom of some of the brackets are crisply cast onto the fenders, which combined with the sharply defined tools (which have the brackets and clamps cast on) will deliver crisp results.

SUSPENSION

The suspension has alternative parts for some features where references indicate design changes were phased in during production of the Ausf H mid.
The one piece Dragon Styrene tracks offer quick construction and have no visible sink marks. The tracks are the 40cm wide type with closed guide horns and chevrons on the outer faces; a type that is common in photos from Normandy.
The road wheels have the tyre and rim combined as one part with separate hub-caps that have the correct later simplified profile and small screw heads which are finely reproduced. There is a choice of patterns for the steel return rollers. There is also a choice of rear idlers being the earlier welded design or the later cast type introduced on the Ausf H.

TURRET

The turret is based on a newly tooled 3-directional slide molded shell that depicts a 1943 production Ausf H with increased roof armor and a thicker rear plate. Correct for a 1943 turret the roof does not have a blanking cover for where the Nahverteigungswaffe (close defence weapon) appeared on later production Ausf H in early 1944. The commander's cupola has internal detail with five vision blocks and a lock mechanism on the split hatch. Clear plastic parts are provided for the turret hatch vision ports and the cupola vision ports.

The turret has a rear stowage bin and injection plastic turret skirts armor which comes with choice of outer doors (open or closed options allowing flexibility in dioramas) and are attached to plastic support brackets which have small detail for the bolt heads not only on the top but also vertical faces. Other detail includes a toothed turret ring, hatches and ports with internal detail that can be revealed when modeled open and separate parts for details like handles, commander's sight, and two-part lifting hooks.

The 7.5cm KwK40 L/48 gun has a sharp slide molded barrel tub and a choice of four multi-part double baffle muzzle breaks (the instructions identify which break to use for each of the Hitlerjungen tanks). There is a choice of gun sleeves and also a choice of a slide-molded MG34 in its protective sleeve or an empty sleeve. Inside the turret there is a gun breech.
DECALS
The medium size Cartograf decal sheet by has markings for eight Ausf H, each of which is supported by three profiles on the instruction sheet and a color side profile on the box. Decals include numerous turret numbers, Balkan Crosses (standard profile), stencils on the schurzen, unit and tactical insignia and girls' names. The profiled schemes provide a representative sample of the paint schemes seen in front line photos of mid-production Ausf H.
Three tanks are from Hitlerjungen 12 Waffen SS Panzer Division in Normandy 1944 with black turret numbers. The profiled tanks are 615 (Wilma), 635)(box art with an unusual hand painted 6 on one side) and 618(Steffi). The suggested application of the three colour paint scheme varies for each tank, in a manner consistent with photos of this unit and these specific tanks which are common in photo albums about D-Day and on the internet (Bundesarchiv). By swapping turret numbers around several other tanks from HJ can be depicted. The girls' names on the cupola will need care when applying and the "Steffi' has been designed to make the task easier.
2nd Panzer Division in Normandy, 1944 with Balkan Crosses, turret numbers white outline 821 and decals for the white position markers (1L, 2L etc) on each hull schurzen plate. The profile matches photos of this tank.
Panzer Lehr Regiment 130 in Normandy, 1944 with Balkan Crosses, turret numbers small white 634 and unit insignia. The paint scheme and decals are accurate to photos of this tank destroyed at Viller-Bocade; in step 1 choose the cast rear idler option (part A7) and later return roller (A13) and step 13 one of the flatter muzzle break profiles.
20th Panzer Division on the Eastern Front late 1943/1944 with black outline turret number 424, unit mascot of a black elephant and Balkan Crosses. It has a typical three colour paint scheme and is accurate against a photo of this specific tank when it was destroyed in Operation Bagration.
A second tank from 20th Panzer Division on Eastern Front in late 1943 with black outline turret number 421 and Balkan Crosses. This tank has white wash applied over the dark yellow in a manner typical of photos from the winter of 1943/44.
A second tank with white wash applied over the dark yellow from an unidentified unit. Markings are black outline turret number 401 and Balkan Crosses. The paint scheme is accurate against photos of this tank which carried extra spare tracks on the driver glacis and had bags stowed behind the turret schurzen. It also had a second set of Balkan Crosses (black outline only) on the middle hull schurzen.

RECOMMENDATION
Dragon's new Ausf H release should be popular as it presents an Ausf H with the zimmerit applied as seen in front line photos from Normandy. The kit has the flexibility to build many mid production Ausf Hs out of the box. The combination of this, the well chosen decal sheet, and the crisp modeler friendly tooling, makes this kit one of the best in Dragon's Panzer IV range. Highly recommended.
- Neville Lord
ITEM NUMBER:
6611
SCALE:
1:35
BARCODE:
089195866110
RELEASE DATE:
January 2013
LAST UPDATE:
1/30/2013
SERIES:
DISCLAIMER: While all models portrayed in website photographs represent actual models, please note that these are prototypes and that final model products may vary slightly
Copyright 1998-2016 Dragon Models Limited. All Rights Reserved.