1/35 Sd.Kfz.167 StuG.IV Late Production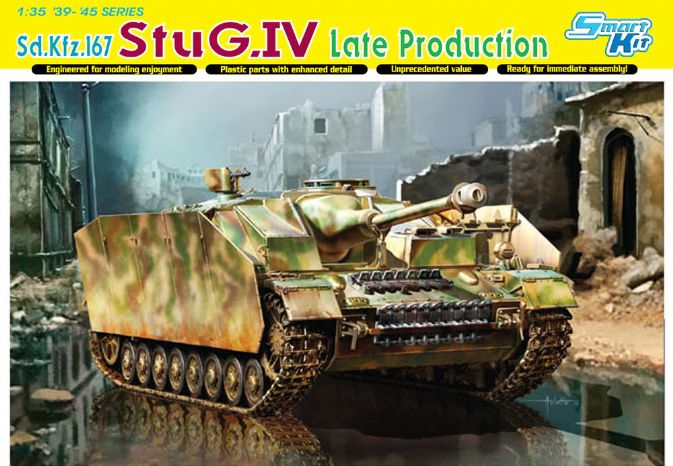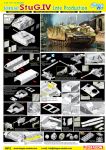 Barcode: 0 89195 86612 7
Packaging: 20 Pieces per carton
Box Size: 9.6" x 15" x 3.1"
Features:
- Newly tooled travel lock assembly
- Newly tooled StuG.IV Late Production fighting compartment authentically reproduced w/extra armor protection
- Newly tooled roof armor w/accurate weld seams
- Newly tooled Magic Tracks
- Side-skirt armor plates can be installed separately
- Side-skirt armor plates produced in metal for scale thickness
- Armor brackets realistically detailed
- Realistic lower hull made by 2-directional slide mold
- Bolts and rivets delicately represented on hull bottom
- Simplified idler mount produced specially for StuG.IV
- Easy-to-assemble upper hull
- Multi-part upper hull offers maximum detail
- Fighting-compartment armor w/accurate weld seams
- Optional rain guard on fighting compartment
- Multi-directional slide-molded superstructure
- Radio set and seat included
- Gun mantlet rendered w/realistic cast texture
- Cannon can be elevated up/down
- One-piece gun barrel
- Optional slide-molded muzzle brakes can be fitted
- Gun breech and recoil guard fully reproduced
- Gun sight and hand wheels w/delicate detail
- Recoil and recuperator cylinders accurately represented
- Detailed rear hull w/mufflers
- Screw heads finely reproduced
- Engine hatches can be assembled open/closed
- Photo-etched parts for engine-deck exhaust grill
- Slide-molded engine deck w/bolt details
- Driver's hatch w/interior detail can be assembled open/closed
- Commander's hatch w/interior details can be assembled open/closed
- Hatches can be assembled open/closed
- MG shield accurately reproduced w/bolt details
- Authentic-looking MG34
- Optional butt stock included
- Includes fuel tank filler mouths
- Slide-molded periscopes for commander's cupola made from clear parts
- Fenders w/tread pattern on both sides
- Two types of front fender segments provided
- Spare-track rack on glacis plate
- Duct flaps reproduced w/photo-etched parts
- Detailed idler wheels w/cast texture
- Photo-etched parts for idlers to accurately represent undercut detail
- Road wheels, sprockets, idlers and return rollers authentically reproduced
The Sturmgeschu"tz IV (also known as Sd.Kfz.167) was an assault gun produced in the fashion of the StuG.III. However, as its name suggests, it was based on the hull of the ubiquitous Panzer IV tank rather than the Panzer III. This came about because Alkett (a manufacturer of the StuG.III) was bombed in November 1943, so in an effort to increase assault gun production, Krupp installed slightly modified StuG.III superstructures on the chassis of the Panzer IV. After production was approved on 6 December 1943, Krupp proceeded to build 1,108 StuG.IV vehicles between December 1943 and May 1945. While this number was far less than the StuG.III, Krupp did ensure continuity of assault gun production. Crewed by four men, it proved to be an effective tank hunter platform. The StuG.IV weighed 23 tonnes and it was armed with a 7.5cm StuK40 L/48 gun. The main armament was supplemented by an MG34 mounted on the superstructure roof.
Dragon has already introduced 1/35 scale plastic Smart Kits depicting Early Production variants of this tank destroyer. Now comes the much anticipated Late Production type. It is accurately tooled and detailed with correct characteristics such as a new lower hull that fits the simplified idler mount, brand new Magic Track, a new roof armor and traveling lock. Other components are borrowed from Dragon's previous Panzer/StuG kits. These include the highly detailed 7.5cm StuK40 gun with its breech and mount, separate metal armor skirt plates, late-style exhaust mufflers plus convenient Magic Tracks. This kit is a fine combination of engineering quality and time-saving convenience!
---
Reviews:
---
StuG.IV Late Production
Manufacturer: Dragon Models
Scale: 1/35
Material: Styrene & Photo-etch
Serial Number: 6612
Price: TBA

Introduction
The Sturmgeschutz IV was born as a result of Krupp needing to produce an assault gun similar to the StuG.III, but since they were not a Panzer III manufacturer, they had to use Panzer IV Hulls instead, but with a modified StuG.III superstructure. After some fits and starts, production eventually began after the Alkett production of StuG.III was drastically reduced by Allied bombing. Between December 943 and May 1945, 1,208 StuG.IV's were manufactures, together with a further 31 manufactured from battle damaged Panzer IV's. This model is intended to represent a late production variant.
The Kit
The model arrives in an extremely 'full' looking box! It's another of those that's difficult to get closed again afterwards. As usual, this is because there are a lot of disparate sprues included from different original releases, and nearly every sprue contains a good number of parts marked as 'Not for use', as can be seen from the scan of the parts map on the first page of the instructions shown below. IN addition to the mass of grey styrene parts, we have a large photo-etched brass fret, three sheets of aluminium pop-out schurzen, a wire tow rope, and a small transparent sprue.
If you're interested in this one, the chances are that it's not the first StuG you've built, and there are very few surprises in store. Construction begins naturally enough with the assembly of the various running gear components onto the separate one-piece slide moulded hull, along with the construction of various structural components to be fitted to the hull. The running gear consists of paired roadwheels, superbly moulded with manufacturers log on the sidewall, two-piece drive sprocket, and choice of idler wheel between welded cast and tubular wheels, and choice between three types of return roller too. At this stage the flame dampening (Flammentoter) exhausts are also constructed and fitted to the separate rear hull wall in readiness for fixing to the hull. The tracks supplied are of the 'Magic Track individual link type, and as is becoming common in Dragon kits, they are supplied in two different shades of grey. The idler wheel can be fitted in such a way as to remain moveable so that their position can be altered later in the build.
Construction then moves on to the front armour. Spare track link brackets are provided for this area in both plastic and photo-etched brass, and sufficient spare links are included for both on top of the glacis and across the front of the hull.
Moving to the engine deck, the access hatches for this are provided as separate parts of course, although there is no engine detail provided. The engine side air intake vents are provided as injection moulded parts, but of two different types. One type has recessed boltheads, and one with them standing proud. Which one to use isn't explained on the instructions, just the choice offered, so you'll have to consult your references, although a definitive answer on which to use for which variant could prove difficult to obtain. I suspect most modellers will just use the first option offered. For the access hatches mentioned above there are also the usual photo-etched louvered slats included.
Construction then moves onto the fenders, unusually there are only one set included in this kit. Before you think it, I know you can only use one set, but Dragon usually leave the alternative fenders on included sprues even you don't get to use them...and they can come in handy. This time, no such luck! We do however get two different type of front section for each fender...curved or angled. Each of the fenders has tread pattern on both upper and lower surfaces, and each has various locations and brackets for tools etc., already moulded in-situ. It's easy enough to fill in small locating holes with stretched sprue, but you're probably stuck with accepting the moulded on brackets unless you're prepare for a lot of work. I much prefer 'blank' fenders that can be up-detailed by the modeller.
The construction of the gun itself is straightforward, using the sprues from the StuG.III kits. A choice of muzzle brake is again included, but nothing on the instructions to indicate what the difference is or why the modeller should choose one over the other. It seems almost churlish to complain, since it's nice to be offered choices...but most manufacturers make some attempt at least to explain why they have included options. Dragon really should include some sort of note on this in the instructions. The gun includes a fully detailed breech, together with gunner's seat, and there's also a full radio set up to place inside the superstructure, so there's plenty to be seem inside this area should you choose to leave the hatches opened. There's a bit of surgery to be performed at this point, since the two small side panels for the superstructure need to have strips that contain bolthead detail, and which run the full length of each of the panels...removed completely in order to fit correctly.
The new late roof is included on a separate new small sprue, that has a split sideways hatch, supplied as separate parts of course, together with a new remote MG34 and shield just in front of it. The roof also has the close-in defence weapon. The periscopes for the Commanders cupola are supplied as clear parts, the hatch as a separate part with internal detail, and the assembly includes photo-etched parts. Also provided is a rabbit's ears scope on it's own mounting post, and the hatch has the front section provided as a separate part so that it be used.
The schurzen provided in the kit are provided on three sheets of pre-cut aluminium (or nickel?), and just need to be snipped out of the sheet. The brackets that attach to each individual schurzen are provided as photo-etched brass, although the long bracket fixed to the hull that the schurzen hang on are provided as styrene.
The markings illustrated on the instructions are of two vehicles, one from 1944 and the other 1945. The former on the Eastern Front in Dunkelgelb with green stripes, and the latter in Yugoslavia, again in Dunkelgelb with brown and green disruptive stripes.
Conclusion
A beautiful state of the art kit from Dragon....what's not to like? I have no doubt others more knowledgeable will perhaps pick up on the odd detail that isn't perfectly correct for a Late production vehicle, but it will probably be minor, and I'm equally certain that most modellers will probably just build it 'as is'. They'll have a whale of a time doing so too! Recommended.
- Vinnie Branigan
ITEM NUMBER:
6612
SCALE:
1:35
BARCODE:
089195866127
RELEASE DATE:
March 2022
RETAIL PRICE:
USD 57.95 (MSRP)
JPY 5000 (Tax Excluded)
LAST UPDATE:
3/25/2022
SERIES:
DISCLAIMER: While all models portrayed in website photographs represent actual models, please note that these are prototypes and that final model products may vary slightly
Copyright 1998-2016 Dragon Models Limited. All Rights Reserved.