1/35 Sd.Kfz.10/5 w/Armored Cab für 2cm FlaK 38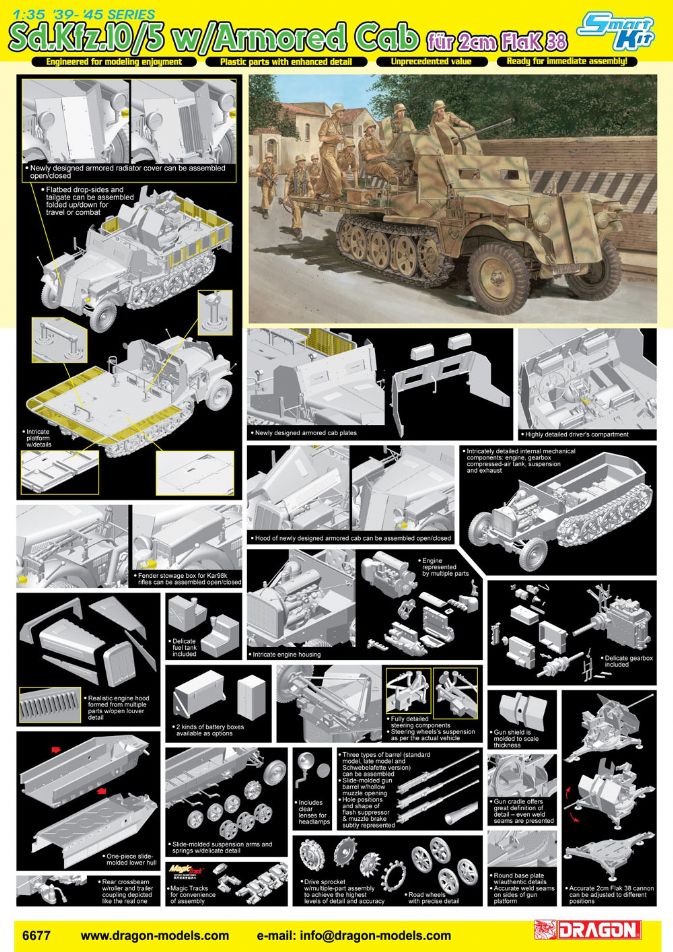 Barcode: 0 89195 86677 6
Case Pack: 20 Pieces per case
Box Size: 9.6" x 15" x 2.4"
Features:
- Newly designed armored radiator cover can be assembled open/closed
- Newly designed armored cab plates
- Hood of newly designed armored cab can be assembled open/closed
- Flatbed drop-sides and tailgate can be assembled folded up/down for tavel or combat
- Intricate platform w/details
- Highly detailed driver's compartment
- Intricately detailed internal mechanical components: engine, gearbox compressed-air tank, suspension and exhaust
- Fender stowage box for Kar98k rifles can be assembled open/closed
- Realistic engine hood formed from multiple parts w/open louver detail
- One-piece slide-molded lower hull
- Intricate engine housing
- Engine represented by multiple parts
- Fully detailed steering components
- Steering wheels' suspension as per the actual vehicle
- Delicate gearbox included
- Accurate 2cm Flak 38 cannon can be adjusted to different positions
- Gun shield is molded to scale thickness
- Gun cradle offers great definition of detail - even weld seams are presented
- Round base plate w/authentic details
- Accurate weld seams on sides of gun platform
- Rear crossbeam w/roller and trailer coupling depicted like the real one
- Delicate fuel tank included
- 2 kinds of battery boxes available as options
- Three types of barrel (standard model, late model and Schwebelafette version) can be assembled
- Slide-molded gun barrel w/hollow muzzle opening
- Hole positions and shape of flash suppressor & muzzle brake subtly represented
- Includes clear lenses for headlamps
- Slide-molded suspension arms and springs w/delicate detail
- Drive sprocket w/multiple-part assembly to achieve the highest levels of detail and accuracy
- Road wheels with precise detail
- Magic Tracks for convenience of assembly
Around 14,000 Sd.Kfz.10 halftracks were built from 1938-45. Several specialist vehicles were based on this halftrack design, among them the Sd.Kfz.10/5. This vehicle had a platform on the rear for carrying an anti-aircraft 2cm FlaK 38 cannon. The purpose-built platform had fold-down sides and rear to give the crew more workspace when in combat. The weapon system was used by both the Wehrmacht and Luftwaffe, and of course the weapon could be equally effective against ground targets. In 1943, the Luftwaffe ordered 293 sets of Behelfspanzerung (armor plates) to protect its Sd.Kfz.10/5 antiaircraft halftracks.
Dragon has already produced a 1/35 scale Sd.Kfz.10/5 in plastic, and it was warmly received by modelers. Dragon has now taken the Sd.Kfz.10/5 a step further by releasing a kit of the halftrack with the specially armored cab. The design team made full utilization of high-quality engineering for this armored version that had steel plates around the cab and over the radiator. The kit's fully detailed, and even internal components like the engine and gearbox that are normally hidden beneath the armor are there. Of course, it also makes use of Dragon's world-famous 2cm FlaK 38 kit. Upgraded road wheels and Magic Tracks from the earlier kit have resulted in a spectacular halftrack that possesses a very different appearance to the regular Sd.Kfz.10/5. Designed to hit low-flying Allied aircraft, this vehicle offers better protection for its crew and a novel appearance for the model-maker!
---
Reviews:
---
Sd.Kfz.10/5 w/Armored Cab
Manufacturer: Dragon models
Scale: 1/35
Material: Styrene & PE
Serial Number: 6677
Price: TBA

Introduction
The Sd.Kfz.10 1 ton halftrack was originally designed to tow guns such as the 2cm FlaK 30 or FlaK 38. However, as with most of the other German halftracks, adaptations were produced to suit various needs as they arose, such as field modified versions mounting even a 3.7cm PaK 36, or as in this case, a 2cm FlaK 38. As a result of the little protection offered their crew, some vehicles were given armoured cabs in order to increase their protection.
Kit Contents
A lot of modellers have been waiting for this one...there's just something about the look of it, maybe because it was such a small vehicle, yet has all that armour. Anyway...inside the box, which appears pretty full on first glance, there are eight large to medium sized sprues, seven smaller ones, one transparent, two bags of individual Magic Track links, two photo-etched frets, a small decal sheet, and a small black plastic tray with two pre-formed, photo-etched spent shell basket meshes.

For the most part the contents of the kit are identical with kit no.6676, the Sd.Kzf.10/5 with 2cm FlaK 38. This is no bad thing, because having built that kit, I consider it almost sublime, both in terms of engineering and detail. The main difference in this particular kit is...as you would expect...a new sprue to supply the necessary parts that make up the armoured cab, and since it's a small vehicle to begin with, plus the fact that it's an open cab, there are not a huge number of parts necessary to make this change. In fact, all the necessary parts are supplied to make the unarmoured version should you choose to do so, since the transparent windscreen sprue is still supplied, albeit with two new blackout headlight lenses on it....which get mostly painted over anyway! Even the photo-etched frets are the same as in that release.
FULL BUILD: DRAGON - Sd.Kfz.10/5 fur 2cm FlaK 38
Construction-wise therefore, the assembly sequence is almost the same too. Beginning with the construction of the running gear, including those two front wheels constructed from 'slices' in order to offer the very best reproduced tread pattern. We're also given a choice of different tread patter by using the original Sd.Kfz.250 wheels, although they're only supplied as two halves. The drive sprockets are also constructed at this stage in preparation for installing the rest of the running gear, and this time the sprue that the drive sprockets are on, is shown on the parts map (it was omitted for some reason in 6676, even though it was included in the kit). The running gear is in some areas the same as that in the newer 250 kits, but the kit overall is streets ahead of those kits. For example, in the Cyber-Hobby 250 we were given a new, better detailed and nicely moulded lower hull in one piece, and in this kit they've taken it a step further, given that a new lower hull/chassis was required, since this vehicle is longer with an extra pair of road wheels, we've now been given fully working torsion bar suspension too. Once you're past installing the roadwheels onto the new lower hull/chassis, then come the tracks...and along with the Magic Tracks supplied in all the Dragon 251 kits, these are amongst the best Dragon have made. They can be considered that, because they're fully working when assembled properly. They consist of a small bag of track links, and another of track pads. Each link has two small projections that fit into recesses on the adjoining link, which are then trapped in place by cementing a pad on top. True...it does require some practice, but if you get it right, you end up with a fully workable track...and they're not too delicate either!

There's a fully detailed engine included in the kit, just add some extra wiring for that super-detailed appearance! The engine hood can be displayed open to show off the engine on the finished kit, and the panels that make up the hood even have their vents moulded open, and clean from any sort of flash. A fully detailed transmission is also included. Obviously, since it's an open cabbed vehicle, the cab area is fully detailed, with decals supplied for the dashboard dials, which are moulded smooth, and therefore the decals must be used. There are also data plates etc. provided for the dash.

The rear body of the vehicle consists of a complicated box frame structure, onto which the floor plate is fixed, and this is even detailed on its lower surface, and has two access panels moulded into it, which are provided as separate parts and so can be modelled in an opened position. The rear bed side and back panels are constructed using a plastic frame onto which photo-etched mesh is attached. Various brackets are supplied in photo-etch for the ammunition boxes fitted to the outside of the panels, and care should be taken when fixing these as their arrangement is quite specific. There are ten such boxes to fit, and it's easy to confuse the panels, and then find yourself with the boxes fitted where they shouldn't be. (Guess how I know this!)

It's at this point in the construction that the build starts to differ from the unarmoured version. Instead of installing the clear windscreen, the armoured one is installed in this build, along with side extended headlights, and the frontal shield ahead of the radiator cover. The armoured windscreen isn't a simple flat piece, having armoured glass vision blocks on its inner surface and moulded razor thin. Unfortunately, the two armoured glass vision blocks are moulded in grey styrene and are solid. Either a very convincing paint job, or some careful surgery is called for! The frontal armour is another part that's extremely well detailed, although looking simple at first. It's constructed of four main pieces, but had various detailed fittings and brackets for fixing it. It's a shame it almost completely covers that lovely radiator cover though!

Finishing off the detail on the vehicle itself we have those rifle racks, one on each fender. These are very nicely detailed, and with a little care, and forethought build up very nicely indeed. I say forethought, since I had such enormous fun painting these. Once you have the various details such as those racks, indicators and lights etc., sorted out you'll finally be able to turn to the gun itself.

The 2cm FlaK 38 is almost a beautiful little kit on its own. It can be traversed to point in any direction, and can be modelled in any of four specific elevations, depending on which part is used, for which full instructions are shown. The barrel supplied in the kit is the same one as in 6676 and represents a KwK 38 with a shorter barrel length, although Dragon have now also included the correct longer FlaK 38 barrel. The instructions however, still indicate to fit the wrong shorter barrel. The area that always gives me trouble on these kits is the spent shell basket. I don't think it's Dragon's fault, just the way the real thing was made, and they have helped improve the situation somewhat by including part of it as pre-formed parts. The rest is on one of the photo-etched frets and will need care getting it to conform to the proper shape.

Markings-wise we're provided with three unidentified vehicles, one in grey, two in dunkelgelb with camouflage stripes. See below for full detail. The included decal sheet is almost a generic one, containing mostly number plate decals, with individual numbers, plus those dashboard dials referred to earlier.


Conclusion
Definitely another winner from Dragon! There's just something about the look of this one. Plus they've sorted out the barrel issue. The engineering and detail is second to none, and it builds like a dream. Recommended!
- Vinnie Branigan
ITEM NUMBER:
6677
SCALE:
1:35
BARCODE:
089195866776
RELEASE DATE:
November 2011
LAST UPDATE:
10/28/2011
SERIES: