1/35 German Fighting Elite in the East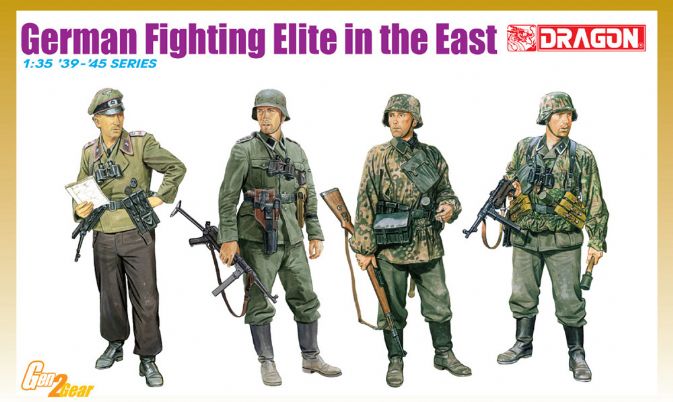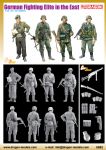 Barcode: 0 89195 86692 9
Case Pack: 48 Pieces Per Master Carton
Box Size: 6.4" x 10.2" x 1.5"
Figure sets featuring German soldiers have always been extremely sought after in Dragon's wide-ranging 1/35 scale range of model kits, and the newest item is set to build on that popularity. The set displays four soldiers from different elite German fighting units. They constitute a cross-section of some of the famous formations that fought at one stage or another during WWII.
The figures depict various useful poses that will find application in all sorts of vignettes and dioramas. The soldiers wield weapons suitable for their unit and time period, including an MP40 submachine gun, a Kar98k rifle, a signal flare pistol and a Mauser C96 pistol. Two of the soldiers are wearing the special camouflage-pattern smocks that were so popular amongst German units, and these are incredibly well portrayed in plastic. Sharply molded and realistically sculpted, this is a versatile set that will be extremely handy for that special pose that modelers have in mind.
---
Reviews:
---
German Fighting Elite in the East

Manufacturer: Dragon models
Scale: 1/35
Material: Styrene
Serial Number: 6692
Price: TBA

Introduction

Dragon are the foremost manufacturer of injection moulded 1/35th scale figures, with an absolutely huge range. After introducing a range of intricately constructed and detailed figures known as 2nd Generation, they've now stopped producing those and nearly every release is now what would be termed 1st generation figures, but usually with 2nd generation gear included in the form o weapons or personal kit. This set represents four German figures on the Eastern front.


Kit Contents

The kit contains two large and two small sprues of light grey styrene. The largest sprue holds the main body parts for the four figures, conventional in breakdown, i.e. main upper torso, separate arms, legs, heads and headgear. The other large sprue holds all the personal kit items, and the other two sprues are weapons and entrenching tools.

The moulding is up to the modern standards expected of this manufacturer, and there are definitely NO cooling lines on the torsos! I hope they've finally solved this problem, which although some would consider it a minor point, they could be troublesome when running through detail on the tunic fronts. Enough of them anyway...they're gone!
All four figures are sculpted in relaxed poses, one Panzertruppe officer wearing a field grey panzer tunic, one soldier wearing an M43 tunic, with the other two wearing camouflage smocks, one gathered at the waist. The officer is standing with left hand on hip, his right holding a map. On his right hip he is carrying an MP40 with sling over his right shoulder. The strap for this is moulded into the back of his tunic, whilst on the front the binocular strap is moulded. It wouldn't be that difficult to remove them should you wish to model the figure differently. Although the circular belt buckle was standard, more often than not this was swapped for the two pronged buckle which was found to be more convenient for some reason, and is what this figure is sculpted wearing. Although obviously depicted wearing the field grey version tunic, looking at the styling, you could actually paint it black and nobody would be any wiser.], since the styling is similar if not the same.
The second figure is posed standing with MP40 in his right hand, looking to one side. Fairly standard in appearance he stands out by dint of the C-96 Mauser wooden stock holster he's wearing on his belt, something I've not seen before on an injection moulded figure. He's also wearing binoculars, again with their strap moulded into his tunic. The third and fourth figures are both sculpted wearing what look to be M1940 reversible camouflage smocks, although one appears to have a bottom drawstring pulled tight, showing the bottom of his tunic beneath, whilst the other isn't, and looking at the cuffs, they could actually be different types of smocks...I'm not that well informed about them, although I can't find a reference for one with a bottom drawstring? One is holding a K98k rifle in his right hand, and the other is holding an MP38 in his right hand, although the box art shows him holding an MP40. He also has a stick grenade in his left hand; although this isn't moulded into the hand so could be left out. He's also wearing binoculars with again moulded strap detail.
Each of the heads for the four figures is moulded without headgear, which are all provided as separate parts, and although 'normal' helmets are provided on the personal kit sprue, the two figures depicted wearing them are provided with ones sculpted with camouflage covers moulded in place. Also, three of the figures are shown with the plain black collar tabs on the box art, yet the actual moulded parts do have detail on all the collar tabs, although indistinct. I don't have a lens powerful enough!
Conclusion

These are actually my favourite type of figures. The relaxed poses means they can be used for almost any scene, or even just as single figures standing next to a vehicle to lend it a sense of scale, and also the detailed nature of the gear they're wearing means they're perfect for enhancing some of the detail if that's what you like doing.
- Vinnie Branigan
---
Kit Review: Dragon Models Limited 1/35 scale '39-'45 Series Kit No. 6692; German Fighting Elites in the East - Gen2 Gear; 144 parts in grey styrene; pre-order price US$12.95 via Dragon USA Online

Advantages: four nicely done single figures in one box; cheaper than some recent sets

Disadvantages: still more German figures

Rating: Highly Recommended

Recommendation: for SS fans

DML continues to crank out one set of German figures after another and this latest set is of four single SS figures (politically correct per Council of Europe rules with their SS runes missing from the artwork) in midwar uniforms. Two of the figures are dressed in camouflaged smocks and helmet covers, one is in standard field uniform, and on is an officer in what appears to be a Sturmartillerie uniform jacket with cap.

Each one comes in six parts (head, torso, arms, and legs) with the officer having a separate left hand for posing. The kit comes with the usual variety of generic DML "Gen2 Gear" kit and weapons.

This one does come with some new bits as part of the main sprue, however. Four cigarettes are provided as well as two flare pistols – one open for loading and one ready for use. However, none of the figures are shown using it! Two types of "potato masher" grenades are provided as is a Model 1896 "broomhandle" Mauser pistol with shoulder stock/holster.

Directions are photos of the "stick here" variety and only the box art is provided for painting; the images appear to be by Ron Volstad but are left unsigned.

Overall this is a typical well-done DML set and will provide four single figures or a pair of camo smocked ones for use in dioramas. But how many more sets of Germans do we really need? It is a shame DML has not provided more variety – and with their Ka-Mi tanks, why no Japanese sets?

Thanks to Freddie Leung for the review sample.
- Cookie Sewell
ITEM NUMBER:
6692
SCALE:
1:35
BARCODE:
089195866929
RELEASE DATE:
February 2012
RETAIL PRICE:
USD 11.95 (MSRP)
JPY 1200 (Tax Excluded)
GBP 10.99 (Ref. Retail Price)
EUD 12.5 (Ref. Retail Price)
LAST UPDATE:
12/14/2011
SERIES:
DISCLAIMER: While all models portrayed in website photographs represent actual models, please note that these are prototypes and that final model products may vary slightly
Copyright 1998-2016 Dragon Models Limited. All Rights Reserved.