1/35 Defense of the Reich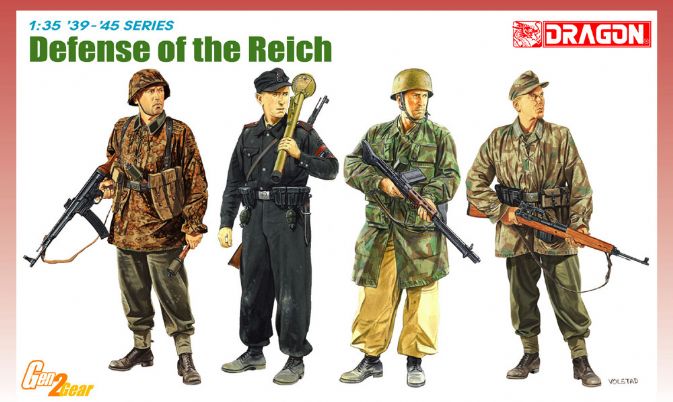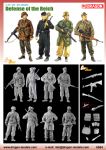 Barcode: 0 89195 86694 3
Case Pack: 48 Pieces Per Master Carton
Box Size: 6.4" x 10.2" x 1.5"
By 1944 the tide of war had truly turned and Germany found itself retreating on every front. Its forces, already depleted by five years of grueling combat, were being pushed further and further back towards the borders of the Third Reich. By 1945, the frontiers of the Fatherland itself were being breached by Allied units in both the east and west. The latest inspirational 1/35 scale figure set from Dragon depicts four German soldiers tasked with defending the country in the 1944-45 period.
The quartet is notable in the variety of uniforms, accoutrements and weapons that they possess. No longer were they wearing the orderly and well-tailored field gray uniforms of the blitzkrieg period. Instead, the soldiers in this set here wear camouflage smocks, a Fallschirmjager jumpsuit and even one in a special Hitler Jugend ("Hitler Youth") winter uniform. Their collection of weapons also reflects the frenetic late-war period. In evidence there's an MP 44 assault rifle, Kar 98k rifle, Gewehr 43 semi-automatic rifle and FG 42 rifle as used by elite paratroopers. The HJ member is also carrying a Panzerfaust 100m, a single-shot anti-tank rocket produced in quantity from September 1944 onwards. These varied figures offer unlimited utility for creators of dioramas and vignettes. Sharply sculpted in realistic poses, these well-researched figures reflect the desperate final months of WWII.
---
Reviews:
---
Defence of the Reich
Manufacturer: Dragon Models
Scale: 1/35
Material: Styrene & Photo-etch
Serial Number: 6694
Price: TBA

Introduction
This brand new four-figure set from Dragon, represents four late war German figures, dressed in four very different uniforms, and carrying a variety of different weapons.
Kit Contents
Inside the end-opening box there are five sprues of grey plastic in varying sizes. The one main, large sprue holds all the body parts for the figures...as usual. Parts breakdown is conventional, with separate upper torsos, legs, arms and heads. Of the other sprues, one contains personal kit items, one sprue weapons, and two tiny sprues each have four entrenching tools of two different types.
The moulding is as you would expect in a new release from this manufacturer. I.e., immaculate. The detail is sharp, there's no flash, and for the second figure release in a row there's no trace whatsoever of those cooling lines in the torso plastic, which at last makes this manufacturers figures possibly the best you can get in plastic...at least in terms of quality moulding. All four figures are in fairly relaxed standing poses, although all four are armed in some way. The first figure struck me as being very familiar, having just built this guy...

The pose is absolutely identical, even down to what weapons he's holding. The only difference being that the figure in this set does not have his smock bunched up over his lower tunic. After a really close comparison of the parts from both figures, it turns out it's actually a different one! All the various folds in their garments are different between the two figures. There's obviously some common ground between Volstad's artwork and sculpting the figure, such as his artwork inspiring two different sculpts? Whatever the reasons for the pose being identical, I actually prefer this one...just slightly...by dint of it not having that bunched up smock. As you can see, he's wearing a camouflaged smock over his tunic, and carrying a Sturmgewehr 44 casually in his right hand and Model 43 Stielhandgranate in his left hand with one through his belt. Over his smock he is wearing the Tragegestell webbing, attached to which are two of the curved magazine three pocket pouches. On his back he has a bread bag, with canteen and cup and mess tin attached to its D rings. His head, as mentioned, is provided as a separate part, as is his headgear, consisting of a helmet with camouflage cover attached.
The second figure is again standing in a relaxed pose, and appears to be a Volkssturm figure wearing a black cotton drill tunic, plus black field cap, and carrying a Panzerfaust. He has a K98K rifle slung over his back with ammunition pouches either side of his belt, plus a knife sheath on the left side and two Eierhandgranate 39 grenades hanging from each trio of ammunition pouches. He has the Panzerfaust held over his left shoulder, and on his upper left arm are moulded a triangular rank badge and Volkssturm armband, although this is moulded minus any detail and no decal is provided. The figure's head and headgear are both provided as separate items again, the separate headgear being of the peaked cap specific to the Hitler Jugend, with the single, buckled strap and insignia above, which although moulded in place, would require a hell of a paint job to bring it out! There are decals provided however, for the Panzerfaust on the included decal sheet, although the instructions indicate you should make two for some reason, you only actually need one for the figure, and besides....there's only one in the kit.
The third figure represents a Fallschirmjager, wearing what some people call a jump smock, but more closely resembles a Division Field over-jacket. I was always under the impression that a smock did not open all the way down the front, but instead had to be dressed over the head. This one opens all the way down, hence a field over-jacket. The portions of the jacket below the belt are supplied as separate parts, to offer a higher level of detail. He also wears a Fallschirmjager helmet, supplied as a separate part so could be swapped out, and Luftwaffe tropical trousers. He is shown on the boxart carrying an FG42, and the instructions label it as WD3a. Shame there isn't actually one in the kit then! I kid you not. Oversights like this should be caught at the quality control stage. On his back he has a bread bag, with canteen and cup and mess tin attached to its D rings.
The fourth figure represents a sniper or marksman figure, wearing a camouflaged smock and peaked field cap, and carrying a Gewehr 43 which is supplied with a separate Zf41 telescopic sight on the main figure sprue. On his back he has a bread bag, with canteen and cup and mess tin attached to its D rings.
Conclusion
The kinds of poses represented in this set offer the most potential in terms of setting they can be used in. Rather than a set of four it's actually more correctly called a collection of four individual figures. I can already think of various settings they could be used in. It just has to be another winning figure set from Dragon....although I really hope they can pause production long enough to sort out that missing FG42.

- Vinnie Branigan
ITEM NUMBER:
6694
SCALE:
1:35
BARCODE:
089195866943
RELEASE DATE:
May 2021
LAST UPDATE:
2/9/2012
SERIES:
DISCLAIMER: While all models portrayed in website photographs represent actual models, please note that these are prototypes and that final model products may vary slightly
Copyright 1998-2016 Dragon Models Limited. All Rights Reserved.