1/35 Sd.Kfz 181 Pz.Kpfw.VI Ausf.E Tiger I Mid-Production w/Zimmerit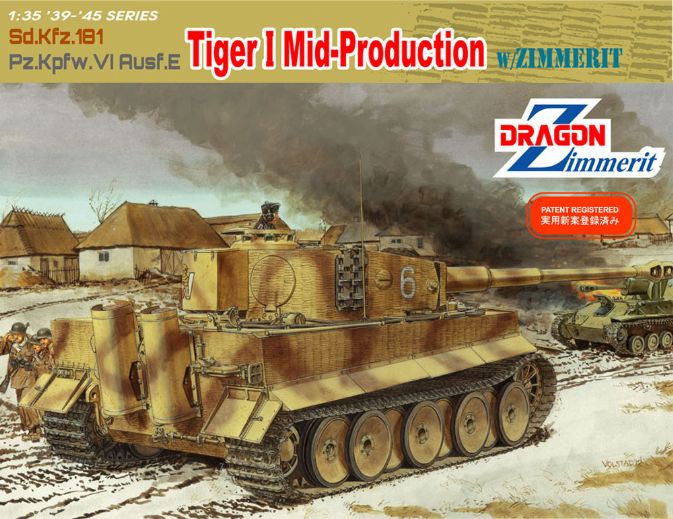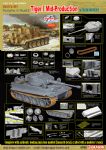 Barcode: 0 89195 86700 1
Case Pack: 20 pieces per master carton
Box Size: 9.6" x 15" x 3.5"

Features:
Newly designed Tiger I Mid- Production w/Zimmerit
Slide-molded muzzle brake included
Realistic ventilator with optional cover
Cupola ring delicately reproduced w/weld seams
Mantlet produced as per original
Spare track links can be hung on turret sides
2 damaged wheels and 2 spare tyres to model typical combat damage
One-piece DS tracks for easy assembly
Multi-directional slide-molded cupola w/full detail
One-piece gun barrel w/subtle detail
Driver's and radio operator's hatches w/interior details
Delicately detailed cupola ring included
Cupola has internal head-pad ring
Clear parts for individual periscopes in cupola
Separate commander's hatch swivel arm
Driver's version port is movable upward/downward
Newly tooled Zimmerit molded on hull plus turret
Working escape hatch can be assembled open/closed
Headlight can be omitted
Upgraded details on hull bottom delicately produced to look realistic
Finely detailed gun travel lock can be built in 3 configurations
Detailed sprocket and idler wheels included
Intricate road wheels and road wheel hubs
Photo-etched screens for engine deck
Exhaust shields rendered w/details
Detailed multi-part jack
Idler arms w/full details
Finely detailed U-shaped tow hooks
Detailed injection-molded on-vehicle tools
Slide-molded tow cable heads and delicate metal tow cables

Dragon has already launched several 1/35 scale kits with molded-on Zimmerit (e.g. Kingtiger, Panther) and these were welcomed with open arms by modelers of all persuasions. The ready-made Zimmerit saved hours of labor for modelers, plus it offered an instant solution to the problem of accurately portraying this unique German anti-magnetic paste. Dragon has added a spectacular new kit to the Zimmerit family, one that has been long awaited and eagerly anticipated…a Tiger I Mid-Production! Furthermore, adding to its appeal, the inspirational box-top artwork comes from the skilled hand of Ron Volstad.
Interestingly, this is also the very first 1/35 scale Tiger I Mid-Production type to appear in a Dragon box. The Tiger I is an iconic tank of WWII, and its legendary status extends well beyond the limited number of 1,355 that were built. Building upon Dragon's masterly 1/35 Tiger kits previously released, this newest big cat comes with a full coating of Zimmerit produced to an extremely high quality in terms of the pattern and scale effect. The unique Zimmerit texture is different to that found on Late Tiger. The kit receives many new parts such as the turret, upper hull, rear plate and road wheels so it can accurately depict a Mid-Production variant. To ease assembly, the tank includes convenient DS tracks. This is truly a masterpiece that blends computerized technology with the touch of a skilled sculptor. This big cat is ready to prowl a diorama scene or to grace a display shelf!
Subject: Review - DML 1/35 scale Tiger I Mid Produciton with Zimmerit
Kit Review: Dragon Models Limited 1/35 scale '39-45 Series Kit No. 6700; Sd.Kfz. 181 Pz.Kpfw. VI Ausf. E Tiger I Mid-Production w/Zimmerit - Dragon Zimmerit; 713 parts (663 in grey styrene, 47 etched brass, 21 clear styrene, 2 DS Plastic track runs, 1 pre-bent steel wire); pre-order price US$64.99 via Dragon USA
Advantages: may finally be a "main-stream" Tiger I kit from DML and not another short run
version; simplified from the previous kit; DS tracks solve the tedium of single link track
assembly; choice of detail parts
Disadvantages: if a short-run will become expensive on eBay
Rating: Highly Recommended
Recommendation: for all German Tiger fans
DML has now released what could be called a "mainstream" Tiger I kit as it is based on the most common versions of this tank to appear, namely with the full production cupola, rubber-tired road wheels, rear turret bin, and zimmerit.
Like the previous "Otto Carius" kit (cyber-hobby No. 74/DML No. 6763) which this model basically replicates minus the extra bits in that kit, it also provides modelers a choice between single-link styrene tracks and DS Plastic single piece runs. As these were the "universal" tracks (e.g. only installed one way so the two sides faced different directions) they are easier to sort out than the handed ones. The DS plastic looks good, takes paint well, and glues with common plastic solvents; it also permits undercutting such as the pin ends of the track and even open teeth to replicate castings as is the case here. Overall, cleanup is simple and I do believe most people like these better. However, in this kit the previous "sag guides" for the single links have made a return.
There are fewer options with the kit: the box does include two styles of idlers, two different rear plates, and three different mantlets, and it does come with both "clean" and zimmerit-applied panels for the tank in the same box. It comes with the later commander's cupola and other specific parts. As before a partial interior is included for the engine compartment as well as all of the torsion bars and the 8.8 cm gun breech in the turret. No AA MG or mount are provided.
Many of the "brag book" features from the previous releases remain with this kit. They have redone the mufflers and armored covers for the rear plate, fixed some problems with the turret escape hatch, redone the hull shell to make more use of "Slide Molding" features, and provided for the use of a engine pre-heater (read blowtorch) at the rear of the hull. This is included with this kit (probably not needed for Russia in summer 1944 though!)
The amount of etched brass has been reduced, and my take on that is that the molds have all been "tweaked" a bit to clean up earlier problems and thus much of the brass detailing is now superfluous.
Zimmerit molding is confined to the lower glacis (T2), upper glacis (T4), vertical plate (T5), hull sides (T7 and T8), stern plate (T3), turret shell (T9), and the mantlet (T6). But the previous three patch panels used to provide smooth surfaces for markings on the vertical plate are missing as the directions show the markings going right over the zimmerit. Some vehicles have track links on their turrets, and some do not; check the finishing instructions to see which is which.
Technical assistance and research for this kit came from David Byrden, Tom Cockle and Gary Edmundson.
As it is the "mass production" version the kit comes with a large sheet of targeted Cartograf decals with EIGHT options: Panzerkampfgruppe "Strachwitz", s.Pz.Abt, 502, Narva front, Estonia 1944 (whitewash over sand, black 211); 1./s.Pz.Abt. 507, Poland 1944 (tricolor, white 113); 1./s.Pz.Abt. 507, Poland 1944 (tricolor, white 132); s.Pz.Abt. 508, Anzio, February 1944 (tricolor, small black crosses); Unterscharfuehrer Ritter, 3/s.SS-Pz.Abt. 101, Mons, France 1944 (tricolor, white 304); Unterscharfuehrer Amselgruber, 3/s.SS-Pz.Abt. 101, Mons, France 1944 (tricolor, white 331); Untersturmfuehrer Guenther, 3/s.SS-Pz.Abt. 101, Mons, France 1944 (tricolor, white 311); 1./s.Pz.Abt. 506, western Ukraine, April-May 1944 (green over sand, white 6 - 11 optional); and s/Pz.Abt. 503, Panzerregiment Baeke, Cherkassy Pocket February 1944 (whitewash over sand, black numbers 123, 200, 221, 311, 312, or 314 known). The markings for the s.SS-Pz.Abt. 101 are also provided in light blue. This is around 15 to 18 different options for one kit!
Overall this is an eagerly awaited version - probably as close to a "generic" Tiger I as DML will go. With the choice between "clean" or zimmerit and DS tracks it should be easy to find the "right" Tiger for most modelers. But note that these kits quickly move to ridiculous prices on eBay and other sites so anyone wishing one should snap it up quickly ($200 each for previous ones is not uncommon).
Thanks to Freddie Leung for the review sample.
Cookie Sewell
Sprue Breakout
A 26 (Tiger I generic) 8.8 cm gun
B 40 (Tiger I generic) drivers and idlers
C 39 (Tiger I Late) fenders and alternate drivers
D 27 (Tiger I Late) Turret fittings
E 31 (Tiger I Late) turret roof and optional details
H 54 x 4 (Tiger I Late) torsion bars and single track links
J 39 (Tiger I generic) interior components
K 10 (Tiger I Late) grilles, OVM
L 12 (Tiger I generic) clear blocks
P 37 (Tiger I Late) cables, hull sides, details
Q 34x2 (Tiger I) road wheels with one damaged and tire
R 15 (Tiger I Late) turret stowage bin
S 9 (Tiger I Late) clear
T 10 Tiger I with Zimmerit parts with zimmerit
U 1 (Tiger I) Hull roof
U 1 Tiger I Late cupola
V 29 (Tiger I) Turret race and detail fittings
W 2 DS tracks
W 14 (Tiger I) details, travel lock fittings
W 3 (Tiger I) Turret roof, hatches
X 1 (Tiger I) lower hull base
Y 42 (Tiger I) hull detail fittings
Z 2 Twisted steel wires
MA 43 Etched brass
MB 1 Prebent wire
MB 4 etched brass
TA 5 (German OVM) pioneer tools
TB 9 (German OVM) jack and hooks
ITEM NUMBER:
6700
SCALE:
1:35
BARCODE:
089195867001
RELEASE DATE:
November 2013
LAST UPDATE:
11/26/2013
SERIES:
DISCLAIMER: While all models portrayed in website photographs represent actual models, please note that these are prototypes and that final model products may vary slightly
Copyright 1998-2016 Dragon Models Limited. All Rights Reserved.