1/35 German Winter Combatants 1943-45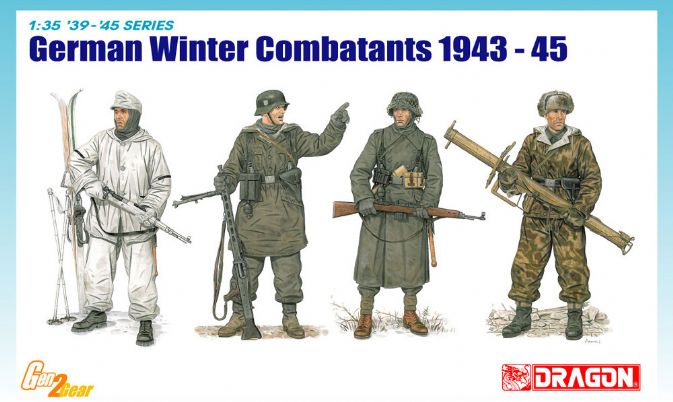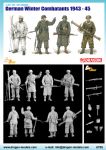 Barcode: 0 89195 86705 6
Packaging: 48 Pieces per carton
Box Size: 6.4" x 10.2" x 1.5"
Germany expected an early conquest of Russia at the time of its attack on 22 June 1941, but when the expected victory did not come as easily as anticipated, the Wehrmacht soon found itself embroiled in Russia's brutal and bitterly cold winter. A quarter of a million German soldiers suffered frostbite in that first Russian winter simply because they were ill equipped and poorly supplied with appropriate cold-weather gear. Soldiers who survived that first grueling winter actually received a medal (called the Medaille Winterschlacht im Osten 1941/42, and which the soldiers often called "Frozen Meat Order")! Every winter on the Eastern Front in the following few years was also a test of endurance. Dragon is releasing a special set of four 1/35 scale plastic figures portraying soldiers fighting and trying to survive the bitter Russian winters.
The set features four separate soldiers, each distinctively dressed and armed. They reflect the range of clothing such as parkas, greatcoats, snow suits and reversible insulated winter suits that were available to soldiers, as well as a variety of different headgear. Their range of weaponry includes a brand new Gew 33/40 rifle, Gew 43 self-loading rifle, MG42 machine gun and anti-tank 8.8cm Raketenpanzerbru"chse. The poses are well sculpted and detail definition on the soldiers is simply superb. Their mostly static poses mean the 1/35 scale figures will be easily incorporated into "White Hell" dioramas or vignettes of the modeler's choosing. This versatile set is perfect for a wintry-themed German scene.
---
Reviews:
---
German Winter Combatants 1943-45
Manufacturer: Dragon Models
Scale: 1/35
Material: Styrene
Serial Number: 6705
Price: TBA
Introduction
This brand new four-figure set from Dragon, represents four German figures from various disparate units, all having cold weather as their common feature.
Kit Contents
As is usual, the four figures are supplied on one main sprue, with various smaller sprues, in this case four, supplying the various weapons and items of personal kit.
All parts are as you expect moulded in Dragon's light grey styrene. The main figure sprue contains the parts to construct the basic figures, with the parts breakdown being entirely conventional, i.e. main upper torso moulding, with separate arms and legs. The heads and headgear are also separate, with some of the figures also having various parts such as their hoods etc, also provided as separate parts.
The first figure is posed holding his Kar 98k rifle downwards, and is dressed in white parka and trousers. He is supplied with a separate part for his hood. His field cap is also depicted as being white, and he is supplied with a set of ski's and poles. If you've ever built the old Dragon set of skiers, then this one should come as a pleasant surprise to you. Not only is the figure far superior to them...as it should be, being far newer, but even the ski's themselves are much...much...better detailed. Since the figure has no waist belt, we're not supplied with the usual lower portions of the coat in quadrants that we would expect, but instead the torso has a sort of 'lip' that the two shortened legs fit into. The box art...and the instructions on the reverse of the box...show the handle of an entrenching tool hanging beneath his coat, and although there's one supplied on a small separate sprue, there's actually nowhere for it to fit. Unless you're prepared to gouge out plastic from the top of the left leg, it's probably best just left off completely.
The second figure is posed standing and pointing with his left hand. Yeah....I know it's a cliched pose, but things become a cliche for a reason....and it's such a useful pose! In his (or Dragon's) defence, his right hand is posed with an MG42, fitted with bipod. He is sculpted wearing an over the head parka again with separate part for the hood, and is wearing a pistol holster and MG cleaning and maintenance kit on his belt. The third figure is posed wearing a double-breasted greatcoat, helmet with moulded camouflage netting and is carrying a Gewehr 43, supplied on the small weapon sprue included. The lower portions of his greatcoat are supplied as two separate parts, back and front. The fourth and last figure is posed wearing a camouflaged parka and trousers, and a hat similar in design to the Russian Ushanka. I have no idea if there is an equivalent German name for one of these, I suppose there probably is? He is posed carrying a Panzerschreck, but not aiming it as he would be in an action pose for example. The Panzerschreck is supplied on its own small sprue, and is highly detailed, being supplied with and wooden crate and four rounds, separate firer's shield, exhaust baffle and trigger.
Conclusion
A very nice set indeed! The poses are sort of midway between relaxed and action? It's more accurately a set of four individual figures rather than a set of four. This is definitely one you should have in your stash, perhaps two. You'll find yourself using one figure at a time, but they're all useful! Recommended.
- Vinnie Branigan
ITEM NUMBER:
6705
SCALE:
1:35
BARCODE:
089195867056
RELEASE DATE:
June 2012
RETAIL PRICE:
USD 16.95 (MSRP)
JPY 89.5 (Tax Excluded)
LAST UPDATE:
6/21/2012
SERIES:
DISCLAIMER: While all models portrayed in website photographs represent actual models, please note that these are prototypes and that final model products may vary slightly
Copyright 1998-2016 Dragon Models Limited. All Rights Reserved.