1/35 Sd.Kfz.10 Ausf.B 1942 Production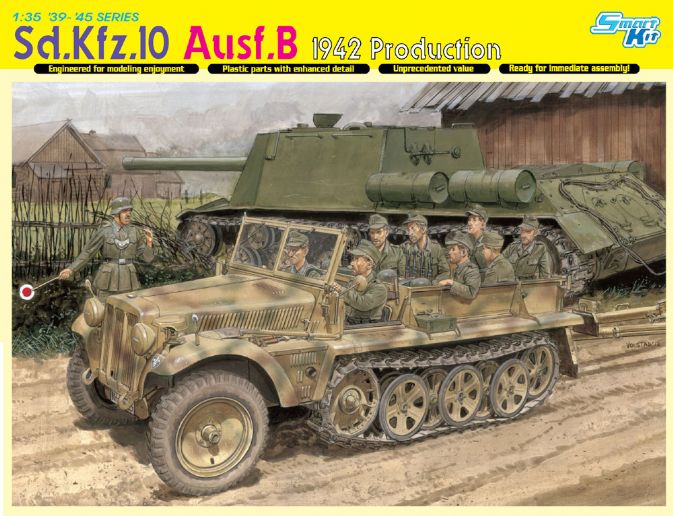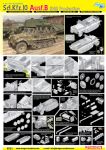 Barcode: 0 89195 86731 5
Packaging: 20 pieces per carton
Box Size: 9.6" x 15" x 2.4"
Features:
Newly tooled Sd.Kfz.10 rendered w/fine detail
Newly tooled wing mirror and spotlight
Newly designed cloth pattern
Newly designed road wheels w/precise details
Included clear lenses for headlamps
Taillights, brackets and photo-etched parts
Circular barbed-wire bracket mounted on detailed chassis
Delicate on-vehicle tools reproduced
Sides of troop compartment can be folded up/down
Rifle rack w/full detail reproduced
Transparent windshield can be folded up/down
Accurately detailed radiator grill and hood
Slide-molded suspension arms and springs w/delicate details
One-piece slide-molded lower hull
Driver's compartment w/interior details
Intricately detailed internal mechanical components engine, gearbox, fuel tank, compressed-air tank, suspension and exhaust
Intricate engine housing
Realistic engine hood formed from multiple partsw/open louver details
Fully detailed steering components
Suspension system as per the real vehicle
Engine represented by multiple parts
Delicate gearbox included
Drive sprocket w/multi-part assembly to achieve the highest levels of detail and
accuracy
Intricate rear compartment represented by multiple parts
Injection-molded fenders are reproduced
2 kinds of battery boxes available as options
Seats in troop compartment reproduced
Rear chassis w/realistic tow pintle depicted like the real one
Delicate fuel tank included
Magic Tracks for convenient assembly

Dragon is proud to announce the arrival of its long-awaited kit of a 1/35 scale Sd.Kfz.10 halftrack. This important kit helps fill an important gap in model coverage of Germany's numerous halftrack types. The Sd.Kfz.10 was a light design in the 1-ton-payload class that was intended as a prime mover for small towed guns such as the 3.7cm PaK 35/36 or 2cm FlaK 30. Its total capacity was eight troops. Demag delivered the first vehicles in 1938, but eventually seven factories were involved in producing approximately 14,000 examples. Dragon's kit represents an Ausf.B model from the 1942 time period. While the Sd.Kfz.10 was conceived as a prime mover, it was also commonly used as a personnel carrier, as shown in the box top artwork.

As already mentioned, Dragon's 1/35 scale kit depicts a halftrack built in 1942, one that still possessed a semiautomatic transmission. Certainly compared to tanks and many other halftracks, this is not a large vehicle. However, although it may be small in stature, it is big on detail. For instance, it possesses a full interior in the driver's and troop compartment, and even the engine and transmission hidden under the hood are fully present. The crew seats even possess a textured surface. The middle tier of interleaved road wheels is new especially for this kit. The Sd.Kfz.10 was used in all theaters of WWII, thus giving modelers unlimited scope as they explore their creative impulses. It was a versatile vehicle, and modelers will find the same when they combine it with other panzer kits or figure sets from Dragon's impressive collection.
---
Reviews:
---
Sd.Kfz.10 Ausf.B 1942 Production
Manufacturer: Dragon Models
Scale: 1/35
Material: Styrene & Photo-etch
Serial Number: 6731
Price: TBA
Introduction
The 1 ton Sd.Kfz.10 was originally designed and manufactured to pull smaller guns such as the FlaK 30 or 38, but as with most German halftracks, as the war continued it was pressed into service in other roles, eventually mounting these guns and even slightly larger ones. This version of the halftrack represents an Ausf.B manufactured in 1942.
The Kit Contents
The kit contents rattle around to a surprising degree once all the packaging has ben removed....which is an indication of the diminutive size of this model once it's finished....that and the absence of any mounted or towed gun of course. The contents are almost identical to the Cyber-Hobby white box Ausf.A version kit no.6630, released in November of last year. The only differences are the decal sheet, the one included in this kit still being a generic sheet, but without the two completed number plates that were included in 6630, the addition of a Notek rear convoy light and a small exhaust cover to sprue B, the latter being marked as 'not for use' anyway, the substitution of the roadwheels to a new set of pressed inner and ribbed outer set, and the option of a slightly different towing pintle assembly at the rear.
What we're given is one large sprue containing all the main body parts such as front fenders, radiator cover, driver's cab details, bonnet panels etc., another large sprue with the engine and suspension parts along with the two front wheels, and a third large sprue with all the necessary parts to make up the new body rear of the driver's cab. The majority of parts so far mentioned are fitted to the one-piece lower hull that's provided. On two identical smaller sprues we're provided with all the various roadwheels and parts for the drive sprockets, and on another two identical sprues we're given all the various parts to make up the crew benches in the rear of the vehicle. Two very small sprues provide the rest of the parts for the drive sprockets, and new brackets to mount two lights on the rear of the vehicle. There are also two small weapons sprues holding two Kar 98K rifles with bolts and 5-round ammunition clips. A clear sprue is supplied with windscreen assembly and headlight lenses, two bags of Magic Track individual track links, a decal sheet and photo-etched fret finish off.
I've built two of these Sd.Kfz.10 variants from Dragon/Cyber-Hobby now, and in some ways they're superior to their Sd.Kfz.7 kits. The kit has a fully detailed engine that just need wiring added and a good paint job to look the part, and the engine side panels are moulded with open ventilation louvres. The suspension consists of working torsion bar assemblies that are threaded through holes in the hull side walls and then secured on the opposite sides. Normally I'm not a great fan of working suspensions when they're paired with individual link tracks, simply because their chief advantage of being able to animate them over for example an obstruction, is negated by the pain of fitting the tracks. With this model there's no such problem however, since the individual track links supplied can me made up into a fully workable track, which makes fitting them so much easier!
Every area of this kit seems to be fully detailed. The cab being a case in point, although it's hard to get away with anything less these days in a model of an open topped vehicle. For the dashboard there's a multitude of decals for dials and data plates to give an authentic appearance, and even the gear shift which was awol on the first release is present and correct in this one.
Once the engine area and cab are installed and complete, and the running gear assembled, it's just a case of installing the various rear body panels and crew benches. As I said, it's a fairly simple kit. The modeller is offered the choice of posing the rear body with the sides lowered or raised. There is also a rifle rack in the crew compartment, for which there are enough rifles supplied to fill it. The instructions again show the use of vinyl masks for painting the windscreen, although there weren't any supplied and they were not on the parts map either?
Markings-wise, there are three options illustrated on the instructions, two of which are panzer grey and the first is dark yellow with a two colour camouflage scheme applied. See below for full details.
Conclusion
Dragon have released quite a few version of this vehicle now, and every time I see a new one I still want it! They're beautifully engineered and build really easily. Recommended.
- Vinnie Branigan
ITEM NUMBER:
6731
SCALE:
1:35
BARCODE:
089195867315
RELEASE DATE:
August 2012
RETAIL PRICE:
USD 48.5 (MSRP)
JPY 4000 (Tax Excluded)
GBP 39.99 (Ref. Retail Price)
EUD 44.95 (Ref. Retail Price)
LAST UPDATE:
8/20/2012
SERIES:
DISCLAIMER: While all models portrayed in website photographs represent actual models, please note that these are prototypes and that final model products may vary slightly
Copyright 1998-2016 Dragon Models Limited. All Rights Reserved.