1/35 Operation Typhoon 1941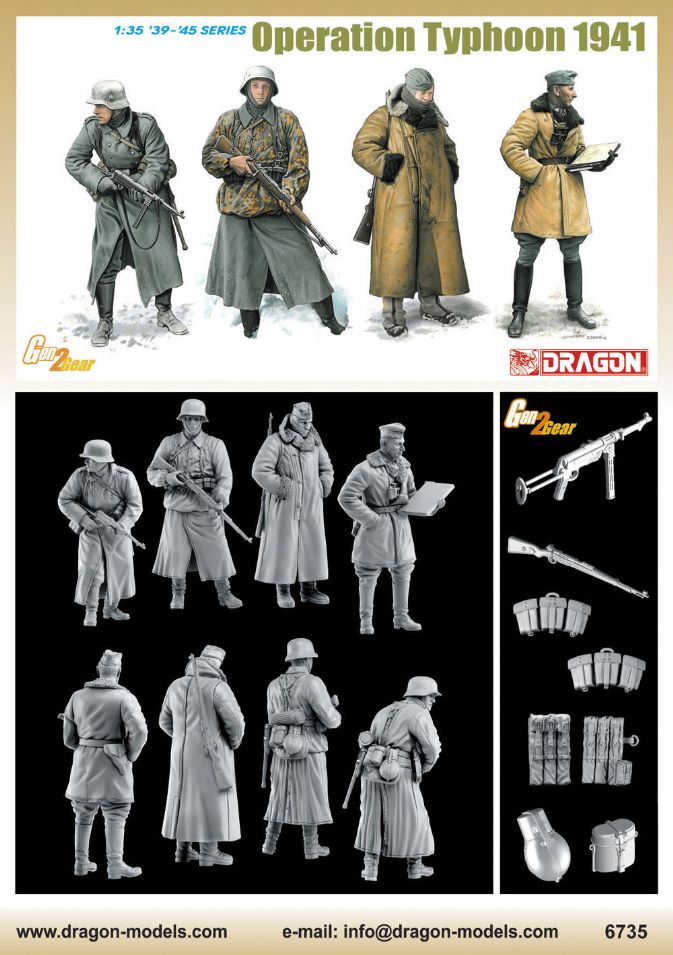 Barcode: 0 89195 86735 3
Case Pack: 48 Pieces Per Master Carton
Box Size: 6.4" x 10.2" x 1.5"
Germany launched its massive invasion of the Soviet Union in June 1941, with the aim of destroying the country's military, political apparatus and capturing its territory. The attack met with early success, and Axis forces advanced deep into Russia. Operation Typhoon was Germany's strategic offensive to capture the capital Moscow, Russia's political center. The operation consisted of two pincers north and south of Moscow by panzer groups, as well as a large force moving west directly against the city. However, German forces, confronted by stretched supply lines, the debilitating onset of winter and stiffening resistance, finally stalled on Moscow's outskirts. This bitter fighting took place between October 1941 and January 1942 before Soviet counteroffensives turned the tide. The fighting around Moscow incurred some one million casualties, and it represented the first German retreat from which it would never recover.
Dragon's newest 1/35 scale figure set portrays German soldiers from Operation Typhoon. The figures are bundled up against the freezing cold winter weather that made conditions even more hazardous. Typical of the period, and Germany's ill-preparedness for winter warfare, the four soldiers are wearing a wide range of clothing. A general has a sheepskin coat on, attire that's rarely produced in 1/35 scale. The poses are extremely vivid, and one can almost feel the cold seeping through their clothing and the snow flurries blowing against them. These well-sculpted figures could be used individually in a vignette, or grouped together in a winter scene. This was the first severe winter that German troops encountered, and this set perfectly conveys the grueling nature of the ultimately unsuccessful Operation Typhoon.
---
Reviews:
---
Operation Typhoon 1941
Manufacturer: Dragon models
Scale: 1/35
Material: Styrene
Serial Number: 6735
Price: TBA
Introduction
Operation Typhoon was the German assault on Moscow launched in October 1941. This set depicts four 1/35th scale figures from that operation, although they could be used to depict figures in any cold theatre.
Kit Contents
The kit contents consist of four sprues of light grey styrene, one of which is extremely small and consists itself of only four entrenching tools. The largest sprue consists of the parts for the main bodies of the four figures, whilst the other two consist of weapons and personal kit items.

The main figure sprue is well moulded, as you would expect from a new Dragon figure set, each figure being conventional in parts breakdown, i.e. main upper torso, separate arms, legs, head and headgear. However, each of the figures also have additional parts to represent various items of dress, such as the greatcoat one figure is wearing, and the sheepskin collars on the coats two of the figures are wearing. The plastic cooling lines are still present on the thick plastic of each torso, but much less visible than in past figure sets, so it looks as though Dragon are making some headway in eliminating these.

The first two figures can be said to be action poses, perhaps more so with the first figure. Both are holding weapons down, although the first is stooped slightly forward. The first figure holds an MP40, and is wearing a greatcoat with helmet, balaclava, and webbing harness over his greatcoat. His collar is provided as a separate piece, as is his greatcoat beneath his belt, which consists of two front parts and one for the back. Some modellers have problems with fitting these to the figure without gaps, but generally if care is taken, and sometime a little 'paring' of the top of the legs, the gap will disappear, and even if it doesn't, the gaps left are usually very easy to fill with superglue, often being very small. The second figure is posed with a Kar 98K rifle held down, and is wearing a camouflaged smock that can be painted in any pattern your references show. Underneath his smock he is also wearing a greatcoat, and again the portions showing below the smock are supplied as separate parts, this time only two parts though.

The second pair of figures I find much more interesting. Both are depicted wearing tan sheepskin coats, although they're of two different types. The first is a full length, full bodied coat, he has his hands in his pockets, and has the lower half of his face covered with either his scarf or a lowered balaclava. He is also wearing the heavy felt boot covers. This figure's a little unusual, in that it's upper torso is completely devoid of detail, instead, it's full length coat is supplied in four vertical quarters, including upper and lower parts. The fourth figure is an officer and is posed with map case in his left hand, right hand in pocket, and is wearing a three-quarter tan coloured sheepskin, with binoculars around his neck. The parts breakdown for this figure is much more conventional in that the portions of his coat shown below his belt are provided already moulded onto the separate legs. However, the binoculars he's wearing around his neck are depicted hanging half inside the upper half of his coat. Dragon have cleverly included a separate part for just that part of the coat, i.e. left shoulder front quadrant. This way, although you have a slight join to disguise, the binoculars can be provided as a separate item, looking as if they actually are half under his coat. It would have been so easy to sculpt them just hanging, so really hats off to Dragon for providing them this way! Also provided in the set is a small paper insert with two maps printed on them for cutting out and affixing to the officer's mapcase should you wish to do so.
Conclusion
This is one of those sets that you start seeing everywhere...especially the two figures in sheepskins. The moulding is first class...as is the original sculpting. Those binoculars being a case in point. In addition to all that, see the pics below and you'll have absolutely loads of personal kit and weapons left over for the spares box. Cracking figure set....well done Dragon!
- Vinnie Branigan
ITEM NUMBER:
6735
SCALE:
1:35
BARCODE:
089195867353
RELEASE DATE:
December 2011
LAST UPDATE:
10/6/2011
SERIES:
DISCLAIMER: While all models portrayed in website photographs represent actual models, please note that these are prototypes and that final model products may vary slightly
Copyright 1998-2016 Dragon Models Limited. All Rights Reserved.