1/35 Sd.Kfz.3 Maultier Ambulance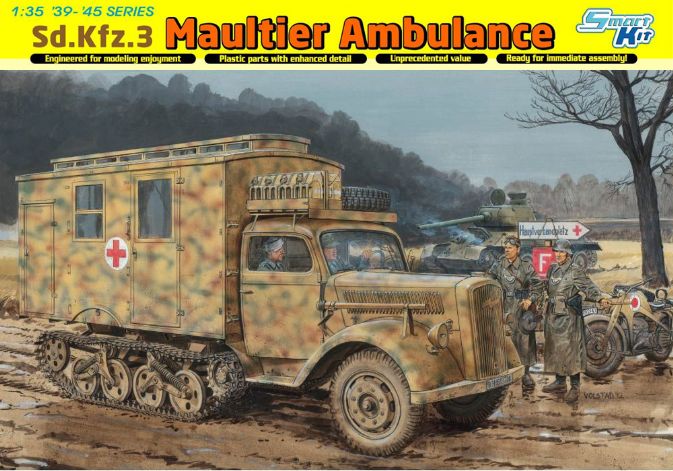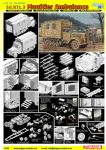 Barcode: 0 89195 86766 7
Case Pack: 20 pieces per master carton
Box Size: 9.6" x 15" x 3.1"
Features:
Brand new Maultier Ambulance rendered w/fine detail
Spare wheel mounted on cab roof-rack
Side doors and rear doors can be assembled open/closed
Footstep for side door can be assembled up/down
Rear access steps can be assembled stowed up/positioned down
Ventilator can be optionally assembled
Two types of blinds provided
Stretcher racks provided
Stretchers can be fabricated in various configurations
Realistic storage cabinet in interior
Detailed seats included
Toolbox included
Stretcher produced w/crisp detail
Realistic engine hood formed from multiple parts w/louver detail
Detailed radiator cover w/filler cap
Accurately shaped front fenders
Side-molded engine hood frame
Two options for door handles can be assembled
Detailed dashboard and cab interior
Intricate driver's seat w/realistic cloth pattern
Fully detailed chassis
Delicate engine represented
Intricate fuel tank mounted on chassis
Sprockets and idler wheels rendered w/accurate detail
Realistic road wheels assembled from separate parts
Realistic engine hood covers can be assembled open/closed
Cab doors can be assembled open/closed
Includes clear lenses for headlamps and spotlights
Delicate wheels w/authentic tire tread pattern
Finely detailed vehicle tools
Highly detailed Magic Tracks reproduced
Newly produced optional idler wheels

The 7.1-tonne Maultier, introduced from 1942 onwards, was largely successful although it wasn't quite as mobile as purpose-built halftracks. One interesting variant was a Maultier Ambulance that could be used for battlefield evacuation. Dragon is proud to be the first manufacturer to offer a plastic kit of this unique vehicle!
This stunning 1/35 scale kit, fully living up to the standards expected by current-generation modelers, is based on Dragon's existing Maultier. The rear ambulance body is completely new, including a delicate access ladder on the rear, as well as side doors and an associated footstep. The rear door opens to reveal a completely outfitted ambulance interior, one that has been carefully recreated with details as accurate as possible using wartime photos as a reference.
The interior thus includes an elaborate rack for up to nine stretchers, and this rack can be fabricated in a configuration that suits the modeler's requirements. Indeed, the detailed exterior and interior of the rear body offer unlimited potential to modelers. Previously, only experienced modelers could have attempted to scratch-build such an extensive ambulance conversion, but now Dragon has made this type available to all! For the modeler who wishes to depict a realistic Eastern Front winter scene, this Maultier Ambulance offers something different.
---
Reviews:
---
Sd.Kfz.3 Maultier Ambulance
Manufacturer: Dragon Models
Scale: 1/35
Material: Styrene & Etched Brass
Serial Number: 6766
Price: TBA

Dragon:
The famous semi-tracked Maultier, whose name means 'mule' had its origins dating from 1941 when German troops fighting on the Eastern Front quickly bogged down in the treacherously muddy conditions at the start and close of wintertime. Wheeled trucks couldn't handle the tough conditions, so the decision was made to obtain half-tracked trucks that could negotiate the mud. The rear axles of standard cargo trucks were replaced with drive shafts connected to track assemblies from retired Panzer I light tanks. The 7.1-tonne Maultier, introduced from 1942 onwards, was largely successful although they weren't quite as mobile as purpose-built halftracks. Load capacity was also reduced to 2 tons. Production of some 4,000 vehicles ceased in 1943 in favour of the RSO tractor. One interesting variant was a Maultier Ambulance that could be used for battlefield evacuation.
The Kit Contents

Dragon/Cyber-Hobby has already released two versions of the Maultier halftrack. I suspect a lot of people have been waiting for this version. There's just something...something about it. We don't see many ambulance versions released in plastic from the main manufacturers, so this one came as a bit of a surprise when it was first announced. After all, we still haven't seen an ambulance version of the Sd.Kfz.251 even, and we've seen more than a few of them released since the first one!

Many of the sprues have been seen in the previous releases of this vehicle of course, and yet still there's a surprising number of new ones in this one in order to allow the modeller to construct the rear body. Given that every area of this model is fully detailed...including the inside of the rear ambulance body...then it becomes clear why so many new sprues are necessary. In total there eight new sprues...although some of them are admittedly small. Some of them are quite large though! There's a brand new sprue 'L' which supplies the large parts that go together to make up the actual rear body, there are sprues 'P1' to supply new driver's cab steps and various parts at the base of the cab to allow the rear body to fit properly, and 'P2', to supply the cabinets that fit inside the ambulance body, and sprue 'M' for the doors and roof amongst some other parts. 'N' supplies a host of smaller fixtures and fittings for inside the ambulance section, with the stretchers being supplied on new sprue 'Q'. There's a new small transparent sprue included also to provide all the necessary glazing for the rear body.

Construction begins with the assembly of all the running gear. First off there's the two front wheels, which we're given new hubs for in this version. They're identical to the old ones....just supplied on a new sprue as a result of the old sprue not being included in this version. Once the suspension components such as front leafsprings, axles and drive train parts are fitted to the slide-moulded chassis, the suspension bogies for the tracked part of the vehicle can be constructed. These are well detailed, constructed from multiple parts, with the springs being injection moulded solid parts. Since these were based on the same Carden Loyd tankette suspension system that the ones on the Universal Carrier were based on, and since I've recently reviewed one of those with real springs...you can probably guess that I'm not exactly over enthused with these ones. Still, they should look reasonable enough once they're all painted up! The roadwheel tyres have embossed detail on their sidewalls, and the tracks are all individual link. There's a new option idler wheel included in this kit, made from three parts these are of the spoked, solid type, although the other un-spoked solid ones are still included.

The model has a fully detailed engine too, and we're also given the Opel Blitz truck engine on another sprue marked as 'not for use'. The engine has a detailed radiator, fan belt assembly etc., and the bonnet can be modelled opened or closed, since both open louvered sides are supplied as separate parts, and there's an etched brass 'Opel Blitz' logo for the front of the radiator. Moving backwards, the diver's cab is fully detailed of course, with everything as you would expect, and decals provided for the dashboard dials, and even a separate fuel tank for below the bench seat. Both cab doors are separate parts, with detail inside and out, including separate handles, and even window winders. The rack and spare wheel for the cab roof, both of which are shown on the boxart, are supplied, yet the full load of Jerry cans in the rack...also on the boxart...are not. Which I found a bit surprising.

Construction then moves to the rear body, and the ambulance section. This is constructed from a base laid over cross-members that will be fixed to the chassis, and onto which separate side, end and roof panels are fixed. There are separate doors provided for both side panels and end panel, detailed inside and out, and the roof panel has the large raised centre section with clear glazing. For inside, the floor panel has rib detail, and the inside of each of each of the wall panels are fully detailed too. There are cabinets provided for the forward bulkhead, with various shelves etc, and nine stretchers are provided, to be held in racks, obviously less could be used as well.

There are two marking schemes depicted on the instructions, one in overall Dunkelgelb, and one in a three colour camouflages scheme, see below for detail. The decal sheet included only includes two Red Cross decals, along with generic number plates and numerals.
Conclusion
This one is going to prove very popular...not only because it's a Maultier of course, but because it's an Ambulance...which is still sort of rare in injection moulded kits, but also it has a fully detailed interior...engine, cab and body. Which therefore offers oodles of potential! Recommended.


-Vinnie Branigan-
---
Kit Review: Dragon Models Limited '39-'45 Series Kit No. 6766; Sd.Kfz. 3 Maultier Ambulance - Smart Kit; 716 parts (472 in grey styrene, 197 "Magic Track" single links, 43 clear styrene, 4 etched brass); pre-order price US$58.95 via Dragon USA Online

Advantages: all new kit of this popular conversion; first new kit of a box body for the Opel 3-ton truck; modern, well molded state-of-the-art kit

Disadvantages: single track links nearly HO scale size!

Rating: Highly Recommended

Recommendation: for German softskin fans

As well as the open body cargo variants of the Opel Blitz 3-ton truck, the Germans also built a large number of closed or "Box Body" variants for various purposes. The most common of these were long-range radio vans and ambulances. DML has now released a kit that combines an all new box body for the ambulance variant with their "Maultier" half-track conversion of the three tonner.

Back in 1999 Italeri released a kit of the cargo truck as a box body with the "Einheitskoffer" body variant. Now DML has updated that with this body, which should be a drop fit onto the cargo truck chassis (and comes with wheel wells to prove it) and will probably be released soon for that version as well. But this variant is for the ambulance, and DML has provided a full interior for that version complete with nine stretchers, racks, and fittings.

The interior is complete but as noted rather crowded as once the nine stretchers are in place there is no room for an attendant or medic to move around. The racks are quite involved, and as a point of fact this kit adds a total of 196 new parts to the existing molds to replicate the variant.

As with its predecessor Blitz cargo versions this is a typical DML kit of recent vintage with lots of slide molded parts – and far fewer of them than the armored vehicle kits. The kit includes a nicely done radiator shell with open bars and etched brass Opel Blitz badging. It comes with a complete engine and nicely done hood frame for opening the hood to view the engine. Also the driver's compartment is complete with all pedals, levers and "stick-on" instruments for the panel (A16). Doors have inside and outside handles and separate clear windows.

This kit receives a totally new chassis and suspension, with the multi-piece tires for the front and a fairly intricate rear suspension. The modeler gets both early (six bolt) and late (eight bolt) wheels to choose from as well. A new engine block and crankcase are provided for the modified drive line.

Where modelers will probably start to hate this kit is when they go to install the tracks. The links are Panzer I links and very tiny – about the size of that of a medium tank in HO scale (1/87) and very, very petite. Each link is only 6mm x 3mm and there is not much surface for gluing provided, which translates as ACC cements are not a good idea. I would recommend some combination of Tamiya Orange and Green or even Testors Liquid Cement on them, and you will need to make a jig of some sort for best results. DML realy should think of making DS Plastic tracks for these kits.

Technical support was provided by Tom Cockle and Gary Edmundson.

Two different finishing options are provided for the model: Unidentified Unit, 1943 (sand with green/brown overspray, red crosses, registration plate WH-1618714);Unidentified Unit, 1943 (sand overall, no markings, no registration plate given). A small sheet of Cartograf decals is provided.

Overall, this kit expands on DML's Blitz family and bodes well for other versions to follow. But as before the tracks will frustrate some modelers.

Thanks to Freddie Leung for the review sample.


-Cookie Sewell-
DISCLAIMER: While all models portrayed in website photographs represent actual models, please note that these are prototypes and that final model products may vary slightly
Copyright 1998-2016 Dragon Models Limited. All Rights Reserved.