1/35 Sd.Kfz.7 8(t) Typ HL m 11 1943 Production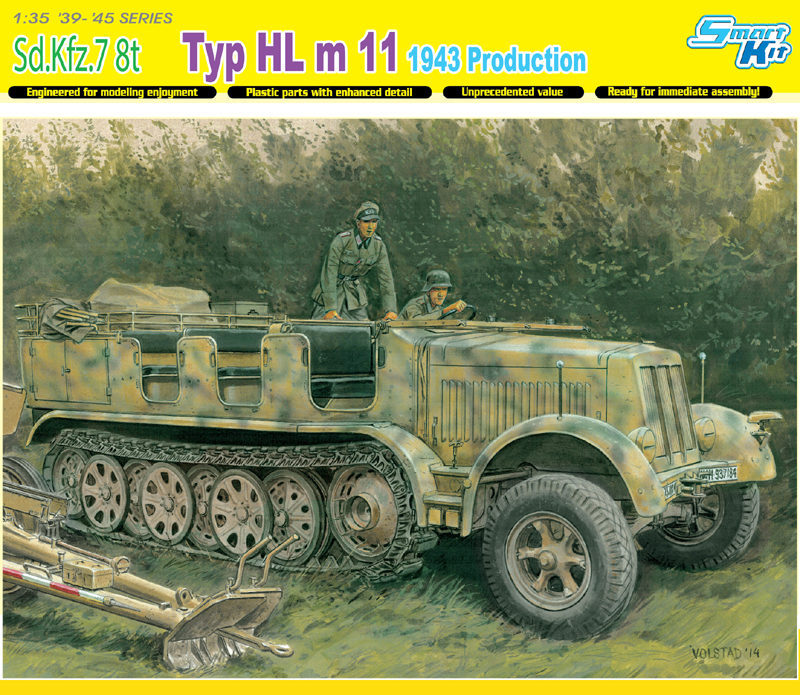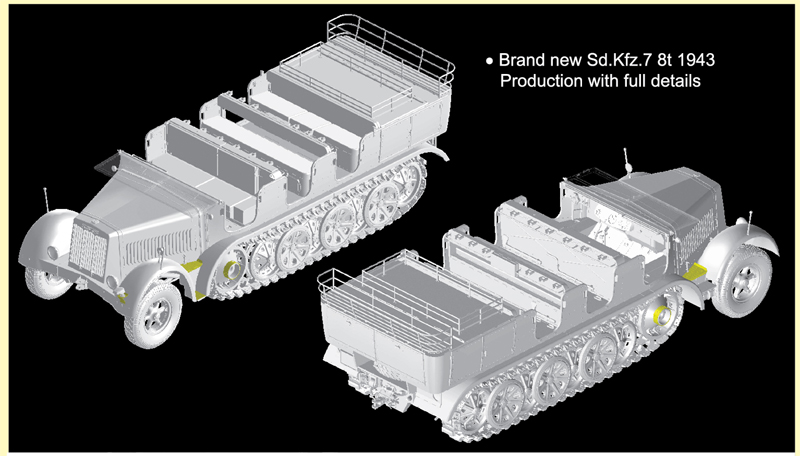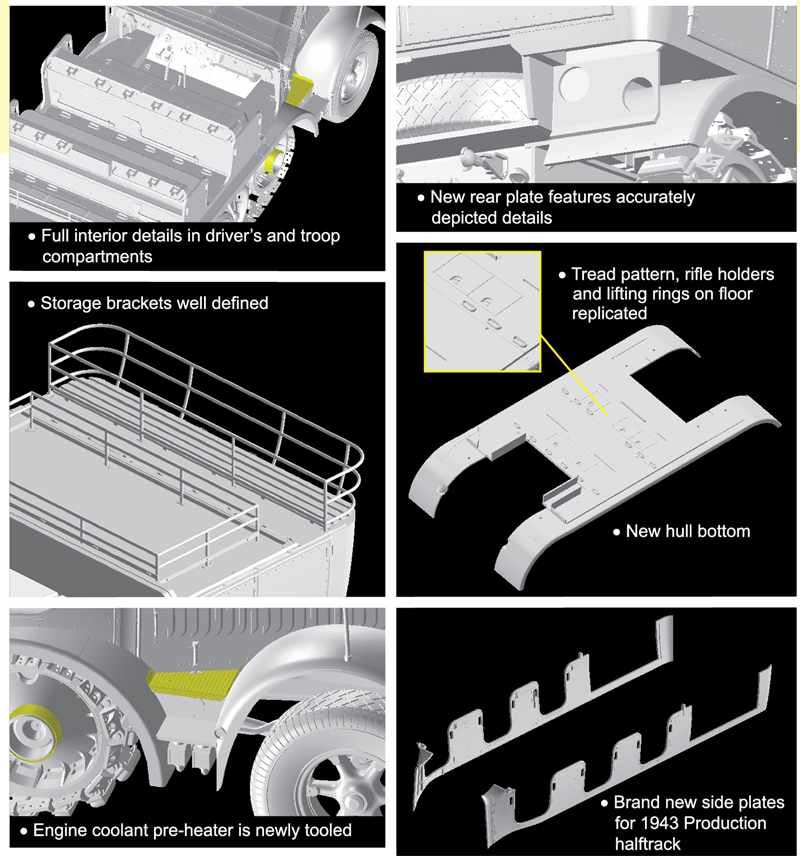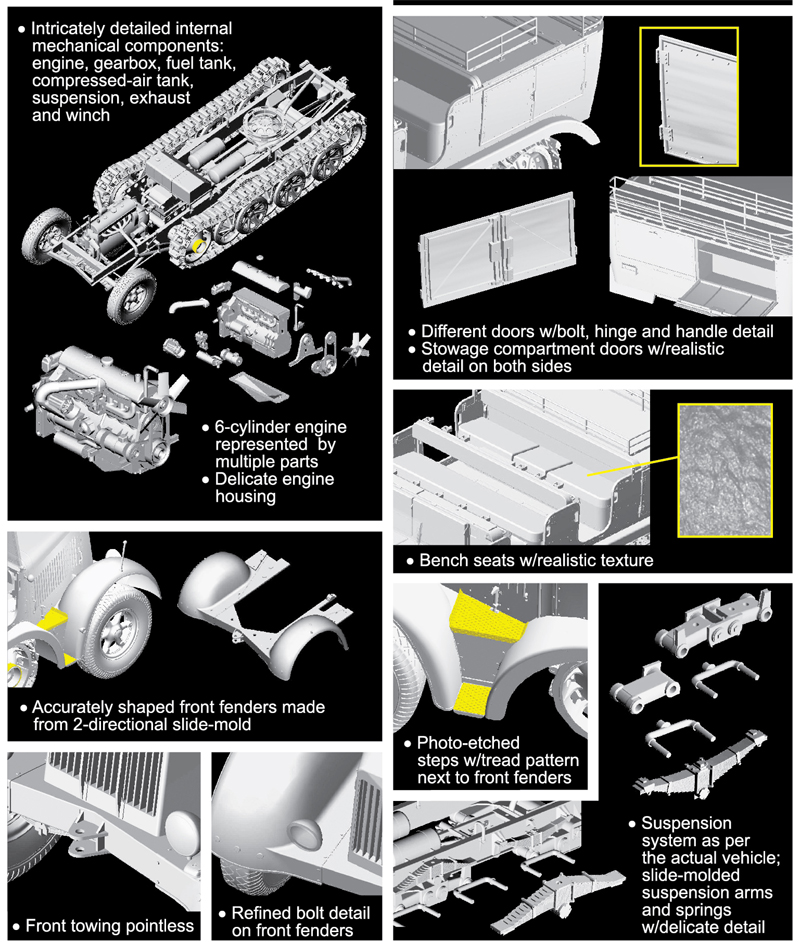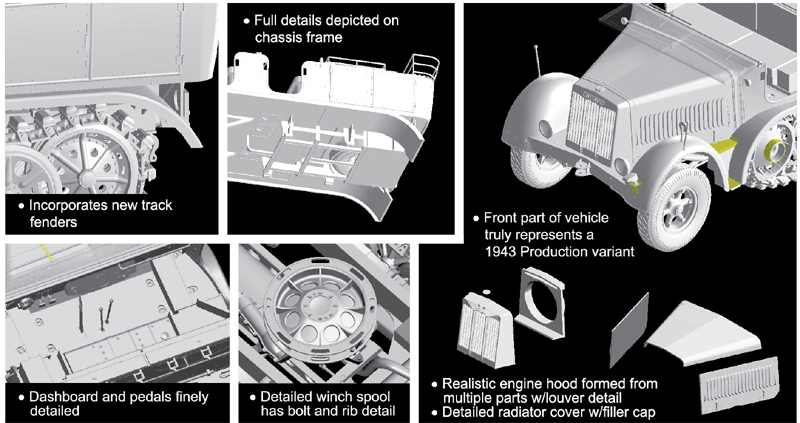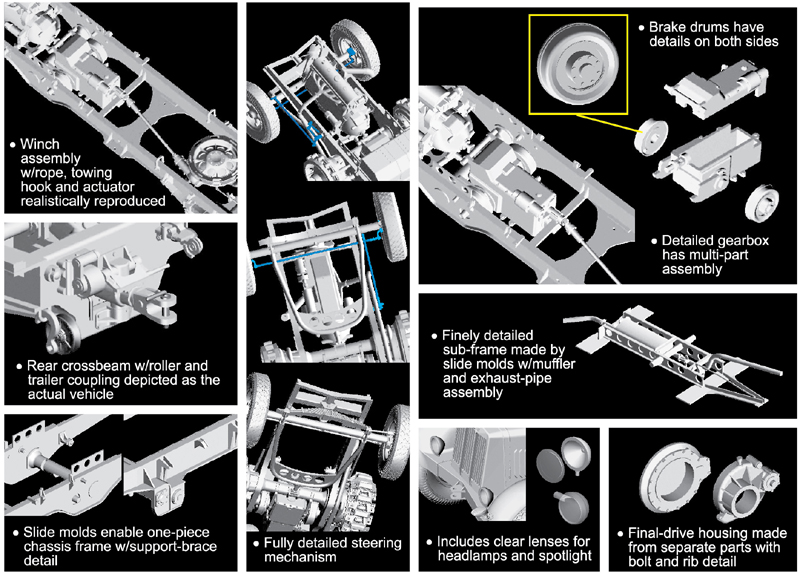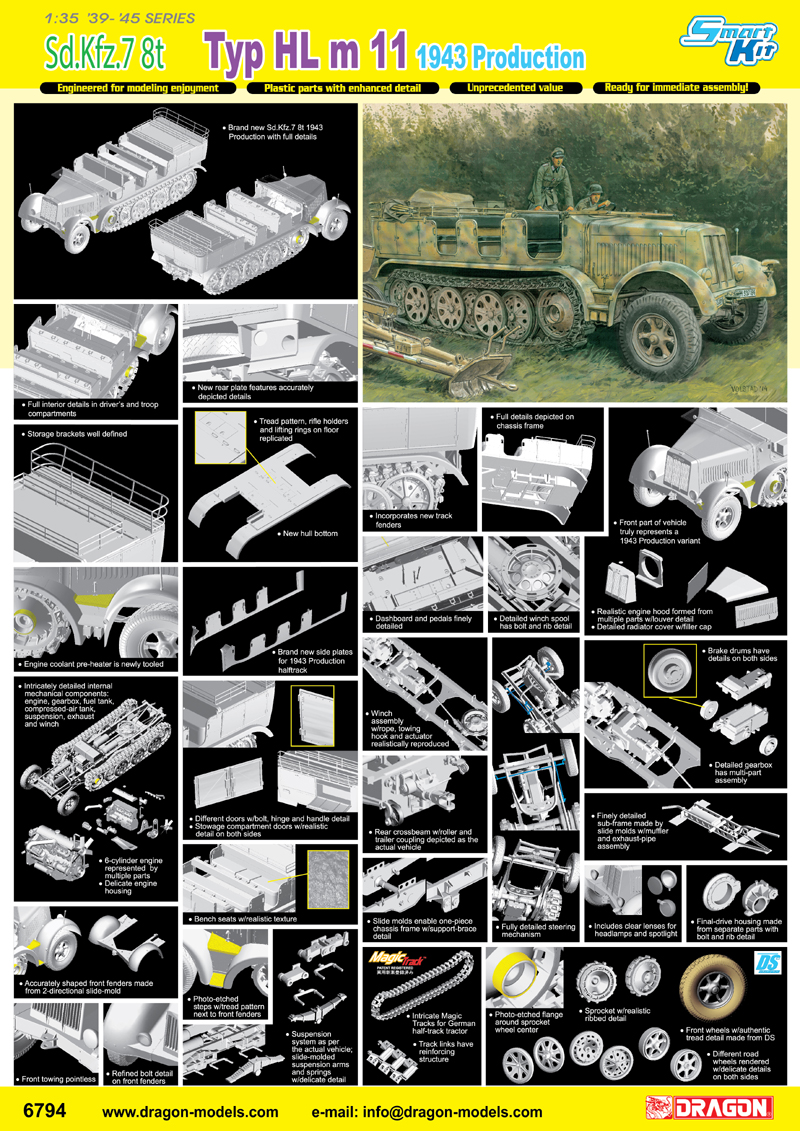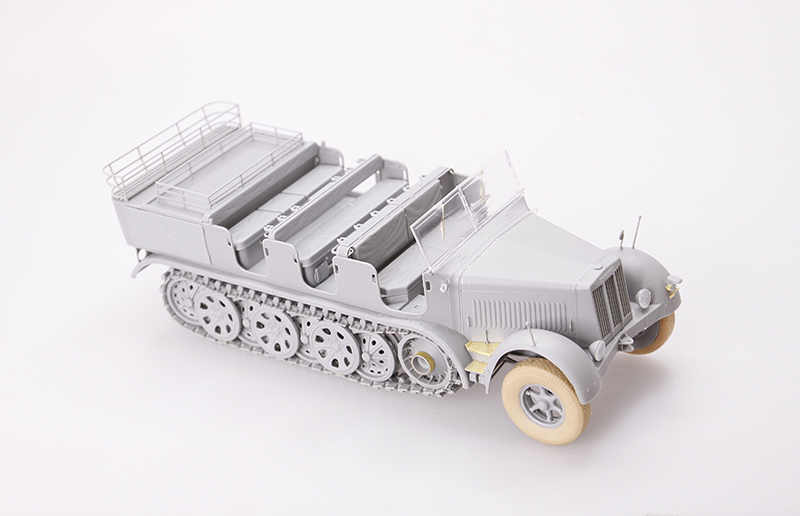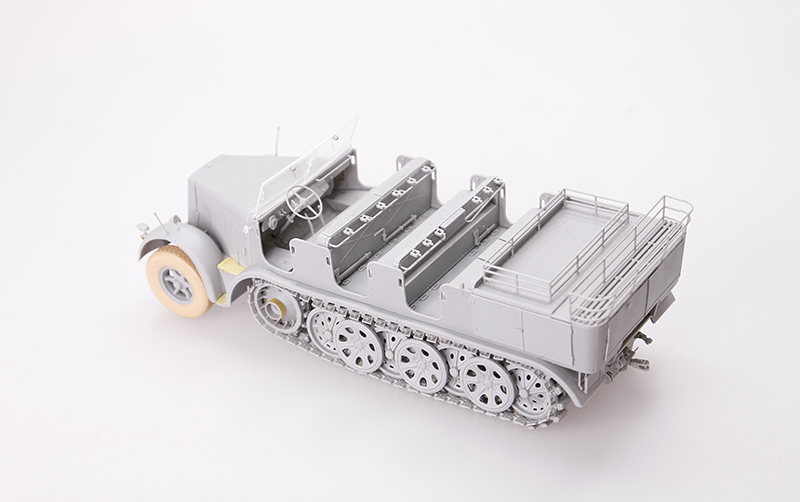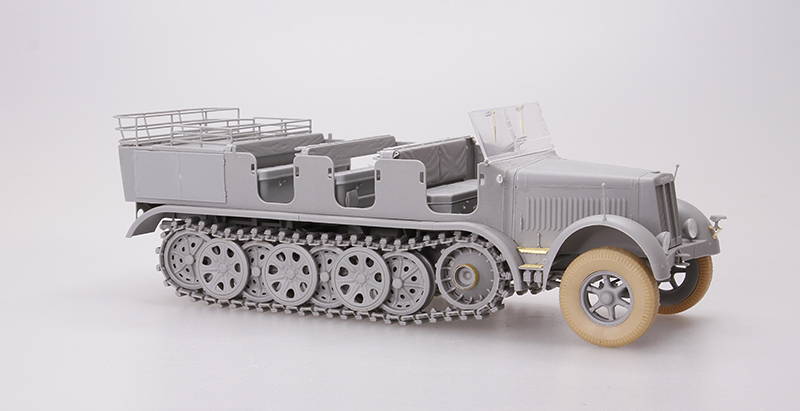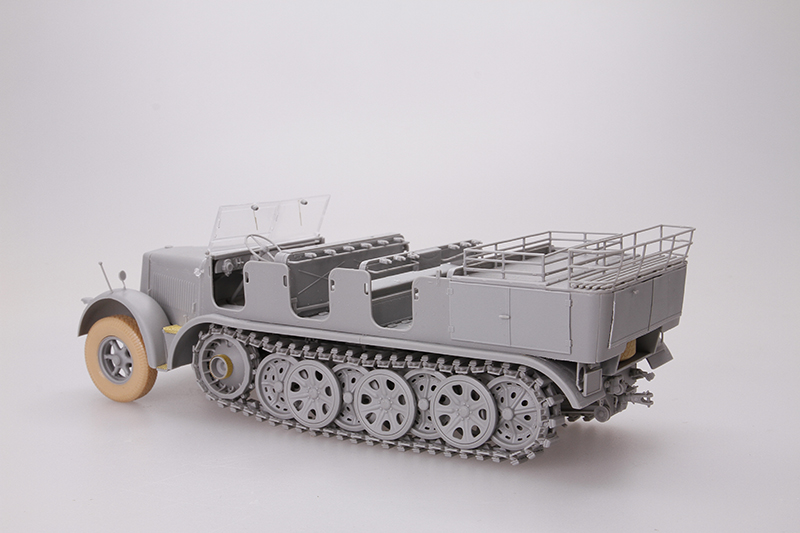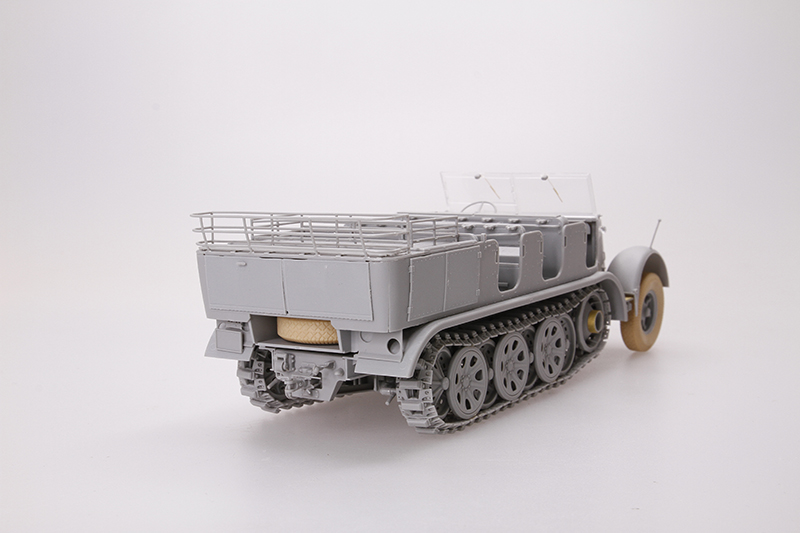 Barcode: 0 89195 86794 0
Case Pack: 20 pieces per master carton
Box Size: 9.8" x 15" x 3.1"

Dragon has already released Initial Production and Early Production versions of the Sonderkraftfahrzeug 7 (more simply known as the Sd.Kfz.7), and they received a very positive response because of their incredible level of accuracy and full detail. Now another 1/35 scale halftrack family member is being released, and it's a 1943 Production vehicle. The Sd.Kfz.7 was a halftrack employed by all branches of the German military during WWII. Designed primarily as a tractor for towing artillery pieces like the 8.8cm FlaK gun and 15cm s.FH.18 150mm howitzer, the Sd.Kfz.7 could accommodate a 12-man gun crew. Like all military vehicles, it received modifications as production progressed.
Casual observers might think the 1943 Production type is identical to earlier ones, but in fact there are significant differences that connoisseurs will immediately spot! Unique features found on this kit are brand new hull sides, plus a new rear plate with reduced dimensions that also eliminated the door for the spare-wheel compartment. Beginning in March 1943, certain features such as turn signals, sidelights and brake lights were all deleted. Also new are the fenders/track guards, and a preheater for the engine coolant that was installed in the footstep on the front-right side of the halftrack. All details are accurately replicated in this kit, of course including those unique to the 1943 Production variant, and careful engineering design means parts fit together with consummate ease. This 1/35 scale model of the Sd.Kfz.7 is set to become another Dragon success, and it will fit well into any mid- to late-war diorama scene. Indeed, it's a perfect match for the s.FH.18 artillery and 8.8cm FlaK kits that Dragon already offers in its impressive range.
Subject: Review - DML 1/35 scale Sd.Kfz. 7 8t Typ HL m 11 1943 Production
Kit Review: Dragon Models Limited 1/35 Scale '39-'45 Series Kit No. 6794; Sd.Kfz. 7 8t Typ HL m 11 1943 Production - Smart Kit; 501 parts (270 in grey styrene, 216 "Magic Track" links and pads, 8 etched brass, 6 clear styrene, 1 twisted steel wire); pre-order price US$59.95 via Dragon USA Online
Advantages: first model ever of this specific vehicle; nicely done use of "slide molding" and DS plastic tires to avoid seams and extra assemblies; full engine and underside details; lots of options for finishing - two cabs, two bodies
Disadvantages: as a "Smart Kit" probably not enough brass for some; small links perhaps better as DS tracks
Rating: Highly Recommended
Recommendation: for all German halftrack and artillery fans
In order to increase production of the very handy eight ton halftrack prime mover, as well as having them built by Krauss Maffei the Germans also had some made by Borgward. These were slightly different from the standard production models but shared most of the same primary parts.
DML has now added this alternative variant to their family of eight-tonners and to that end have changed or modified some of the basic parts from the earlier kits. At least 56 parts have been added or tweaked from the earlier kits in order to replicate the body and details of the Borgward vehicles.
The new mold body includes a new main fender assembly with small rolled skirting on the edges and a number of other tweaks. DML has provided directions showing where new parts must be added or older ones cut or modified to take the new parts. But once again only two Kar 98K rifles are provided, so anyone wanting full racks better head for the spares box.
The kit retains the same nicely done details from its predecessors - a complete engine and undercarriage to include a complete transfer case, fuel tank, four-part winch drum, and complete tow hook installation that form part of the chassis. The drivers are two-piece with suitable rollers represented and also add etched brass centers for scale appearance. Twisted steel wire is now provided for the winch.
Once again two-piece "Magic Track" halftrack tracks are included, but as often noted are very small and DML could have made many modelers happy by molding them as one-piece runs in DS plastic. Also, as the kits are "Smart Kits" they make use of slide molding and other tricks to avoid needless small parts assemblies and minimize the use of brass.
The kit retains the nicely done front tires with DS plastic outers and treads combined with a styrene inner section.
Like the others it has an open windshield and thus the painting masks are included.
Research and technical assistance were provided by H3 Design Office, Shin Okada, Minoru Igarashi, Tom Cockle and Gary Edmundson.
Two finishing options are offered but while a Cartograf license plate "number jungle". Is included, neither one has a registration number identified. The variants which can be modeled are: Unidentified Unit, Eastern Front 1943 (tri-color spray pattern); Unidentified Unit, Western Front 1945 (sand overall).
Overall this is a nice version of the prime mover and should go well with other DML artillery kits.
Thanks to Freddie Leung for the review sample.
Cookie Sewell
Sprue layout:
A 1 Sd.Kfz. 7 - chassis
B 55 Sd.Kfz. 7 - Underframe details - winch, drivers, front axle, subframe, muffler
C 44x2 Sd.Kfz. 7 - road wheels, front wheel backs, body details
D 71 Sd.Kfz. 7 - engine, hood, radiator, standard passenger body components less sides
E 36 Sd.Kfz. 7 - body floor and detail panels
G 1 Sd.Kfz. 7 - fender assembly
H 7 Sd.Kfz. 7 - body sides, rear and racks
H 6 Sd.Kfz. 7 - clear styrene
I 11 Sd.Kfz. 7 - body details
K 3 DS plastic tires
Y 1 Twisted steel wire
Z 108 "Magic Track" track pads
Z 108 "Magic Track" track links
MA 8 Etched brass

ITEM NUMBER:
6794
SCALE:
1:35
BARCODE:
089195867940
RELEASE DATE:
August 2014
LAST UPDATE:
8/22/2014
SERIES:
DISCLAIMER: While all models portrayed in website photographs represent actual models, please note that these are prototypes and that final model products may vary slightly
Copyright 1998-2016 Dragon Models Limited. All Rights Reserved.